Business Analyst To Project Manager: Real Experience
If you are a business analyst (BA) and consider becoming a project manager (PM), you are in the right place. I have been in your shoes and successfully transitioned to a Project Management role. Indeed, becoming a project manager from a business analyst is not the only way forward, but quite common. So let's talk about how to become a project manager from a business analyst.
Understanding the differences between business analyst and project manager is the first step. Then, gaining experience by managing parts of the project. Plus, learning by completing online courses, watching YouTube, reading forums and blogs and considering project management certificates like CAPM® or PMP®.
There is a lot to consider when moving from BA to PM, and that is not only a salary and more accountability. We should also look into personalities, the difference in tasks and which once give you energy. 
In the rest of the post, I will share my experience and cover multiple angles you should consider before moving. I hope you will enjoy it, and if you have any questions, not hesitate to ask through the forms on the site. The move was a fantastic experience for me, but it wasn't entirely child's play!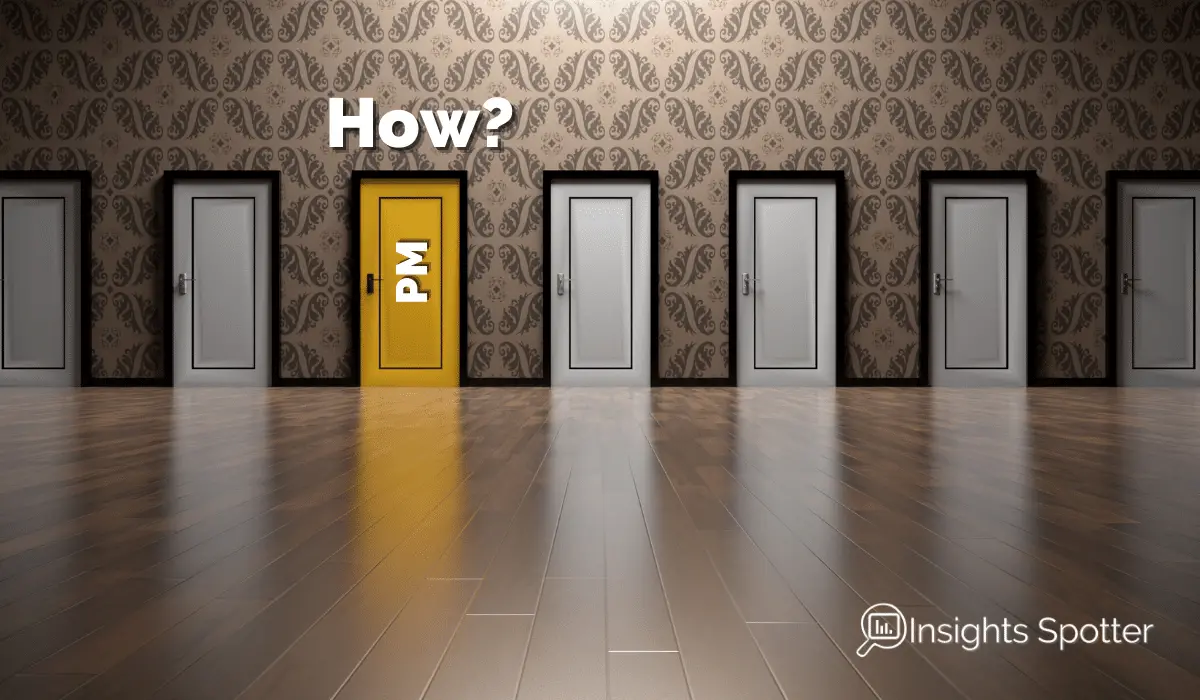 How Do You Transition From Business Analyst to Project Manager?
There is no easy way to transition; you will need to put in work and effort. Yet, like many things in life, if you really want it, do good preparation (i.e. plan), you will succeed. The great news is that BA has a significant advantage as they already work in a project's environment and can observe project managers in action. 
Plus, as a business analyst, you spend a lot of time collating requirements, running some of the project meetings and understanding what needs to be done; thus, you keep a close eye on the scope, which is one of the constraints project managers need to consider. Also, as a BA, you have learned to collaborate with cross-functional teams. 
So now, let's have a look at what you should consider step by step next to get that PM role finally.
From Business Analyst to Project Manager In Steps
If you would like clear steps to help you move to the project manager position, these are provided below.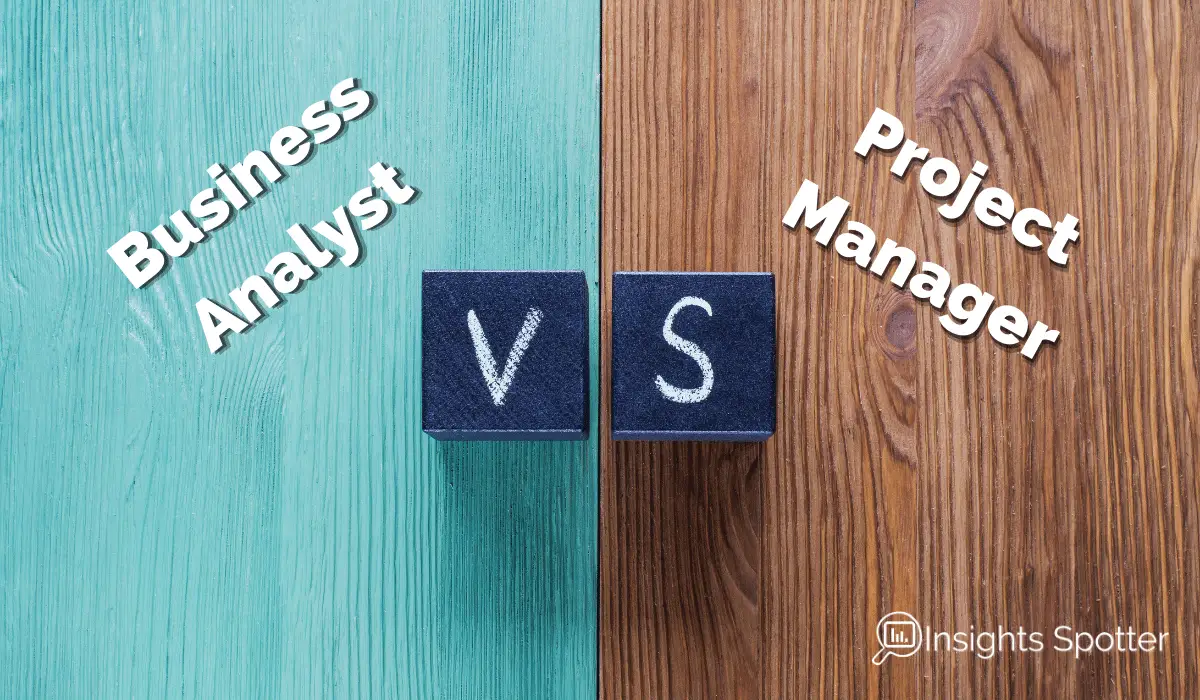 Step 1: Understanding How Business Analysts And Project Managers Are Different
Before you can go anywhere, we need to understand the key differences between the two roles. Understanding the target (i.e., PM role) helps to know what we are aiming for. 
One way I like to think about different is that the business analyst ensures that the project is doing the right things. In contrast, a project manager ensures that things are done.
If you are working on the project, you already observe project managers around you and what they do. But in case you have little to no access to them, let's look into both roles separately. Plus, explore different BA vs PM's skills, and we will explore how to bridge the skill's gap.
Who Is A Business Analyst?
Business Analyst goals are to improve the organisation through understanding their needs and coming up with solutions. These solutions could either be new technology, change in processes or a combination of two. 
Usually, a Business Analyst would complete the following tasks:
Analyse the business and structure

Understands the way technology is used  

Investigates what goals organisation has to achieve 

Find out the problem with the organisation by using modelling techniques like process maps 

Discuss with senior individuals in the organisation to understand objectives 

Conducts GAP analysis and specifies options for businesses to improve 

Influence stakeholders formalising the benefits of new technology or strategy 

Support and oversee implementation of new technology, process or systems 

Runs, interviews, workshops, training sessions  

Completes requirements gathering, analysis and validation
Who Is A Project Manager?
Project Managers are responsible for, in part, for all that happens in the project. They initiate, plan, execute, monitor & control and close initiatives with the help of a team. Individuals in this role would spend every day solving or addressing one of the project constraints:
Time

Cost

Scope

Quality

Resources

Risk
Also, the role requires sharing information, communicating & working with stakeholders to make resources available and various interests addressed. Ultimately, a business created the project to achieve one or several objectives; the project manager needs to make sure that happens.
I personally found that knowing when to make decisions or defer to senior stakeholders is a great lesson to learn. As a PM, you do not have to make all the decisions. Though you must ensure that stakeholders who make those decisions are fully informed.
Usual Project Manager Responsibilities:
Agreeing on project objectives & scope

Representing the client's or organisation's interests

Provide advice on project management in an organisation

Organise resources like people, technology, etc.

Working out risk, issues, assumption, dependencies

Track if objectives of the project are met

Implement quality controls for the deliverables

Keeping track of progress through stories, Gantt Charts.

Managing sub-contractors and consultants

Overseeing invoicing and budgets

Reporting to the client or senior stakeholders on progress

Evaluating the project's success against benchmarking 

Conducting lessons learned and improving the organisation's project management
Business Analyst To Project Manager: Filling Skills GAPs
Competency
Business Analyst
(Solution Scope)
Project Manager
(Project Scope)
Comments
Bridge The GAP
Decision Making
Understand the impact of various business decisions


Provide recommendations
Approvals and sign-offs


Manage and allocate project resources


Manage priorities and plan
The types of decisions are a bit different. Therefore, BA will need to get exposure or at least understand the logic behind particular PM decisions.
BA should shadow PM work or ask to make some of these decisions with supervision.
Commercial awareness
Understand business needs in the industry


Provide solutions relevant to the industry
Understand project environment and industry


Understand the market situation for a deliverables


Understand market situation for resources
The skill level should be exactly the same. Both should have a good understanding of the domain, i.e., industry
No Change Needed
Communication & Interpersonal
Process various reports in writing


Work and communicate with customers, SMEs, teams.
Manage communication with stakeholders


Make various level project status reports
The skill level should be exactly the same, but PM has some more experience when communicating to senior management.
No Change Needed
Influence & Diplomacy
The goal is to meet business user's expectations


Build a relationship with end-users or customers
Manage stakeholder expectations


Manage project deviations from the plan


Arrange stakeholder's consensus
BA will need to learning dealing with grey areas in the organisation structure.
If possible, observe project managers and arrange to debriefs when PM dealt with a challenging situation. You want his/her thought process.
Time management
Work to get business output


Ensure on-time proposals


Ensure insights are ready in time of the decisions
Manage project timelines


Prioritise solution
At the personal level, exactly the same. At the project, level BA needs to learn how to plan and align the project to different resources.

Also, PMs have this six senses for good timing. You just know when the particular task should finish or when you should update the sponsor. All that comes with experience and seeing multiple tasks
Ask to manage more project meetings. Contribute to sections of SteerCos
Problem Solving
Analysing the GAP Current & Future state


Business requirement elicitation


Understand the business current situation


Perform root cause analysis
Remove barriers for the project


Address issues head-on
Create mitigation plans for Risk & Issues
Type of problems are slightly different, but the ability to solve them if confident is about the same.
No Change Needed
Analytical & Numerical  Skills
Dealing with detailed analysis to provide insights.


Reviewing current states and considering future environments
Analyse interlinked resources


Analyse budgets


Analyse interlinked tasks
BA probably has more analytical skills than PM. This is one big advantage of becoming PM from BA. In a way, you sometimes, as ex BA, want to step back from detail analysis to see the big picture.
Spend more time thinking about the bigger picture. Validate your thoughts with PMs
Leadership
Working with SMEs team


Providing coaching & project guidance
Motivate team


Coordinate resources and activities


Resolve Conflicts


Responsibility for project success or failure
These should be very similar. BA will need to work on a larger scale. Instead of leading a meeting or requirement gathering, he/she will need to lead the whole project.
Ask PMs to give more project tasks, which will eventually lead to more leadership through dealing with conflicts, coordinating resources.
Project Management Techniques
Great understanding of requirements engineering


Great understanding of options management


Great understanding of business requirement documentation
Understanding of both Agile and traditional project management


Understanding of various project management tools, like RACI, Scorecards.
Although you would expect both to be more or less the same, PMs would have more experience applying different frameworks. BA can easily learn these through studying for certificates or even YouTube or blogs.
Spend all your spare time learning about project management. Check out my posts, YouTube, Amazon, available certificates.
Teamwork
Working as part of the project core team


Working with SMEs to push the project forward
Working as part of the project core team


Working with SMEs to push projects forward forward
It should be exactly the same. PM and BA normally work as part of the same team.
No Change Needed
Motivate and Inspire
BA works to motivate SMEs and other individuals at times
PM works to motivate teams, and wider stakeholders to deliver a project
PMs usually have a team that they lead and motivate to complete the project. BA have limited experience. However, you do get at times to motivate some members of the team.
Ask for more PM tasks and take the opportunity to motivate and inspire people to do their best. Show them the bigger picture and that their work matters.
Perspective
Detail Orientated at the process level


Work with detailed knowledge
High-Level Picture at the organisation level


Provide wide knowledge to stakeholders


Work on integration of project solutions to organisation
BA tend to concentrate on details, and they need to learn to go a step back to see a bigger picture. Doing project management tasks will allow practising this new skill.
Ask for more PM tasks, and if work does not require, resist the temptation to jump back to details. Sometimes as PM, you will still have to when things go wrong. If it is not necessary, try avoiding it.
Ability to Facilitate Discussions
Facilitating team discussions


Facilitating discussion with SMEs
Facilitating project stakeholder discussions
BA would facilitate and encourage discussions in team meetings and Workshops and PM in Workshops or SteerCo.
No Change Needed
Finance
BA does not deal with budgets
PM works to estimate and define project budgets
PM does not have to be an accountant. But he/she needs to create project estimates, budgets and then track them. If you like to learn more, check out my post: WHAT HAPPENS WHEN A PROJECT GOES OVER BUDGET? PREVENT IT
BA will need to ask PM for some of those budget creation or monitoring tasks and responsibilities. But it is not too difficult. You just need to be very careful with managing expectations around the subject.
Contractual Skills
BA might have participated in the procurement process.
PM often works on the procurement process to onboard new vendors
PM needs to sign contracts or facilitate discussion when onboarding new vendors or hiring new consultants.
BA would not have had experience in these areas. The best thing would be to get on the project where you project onboarding outside the system.
Multi-Tasking
Working on multiple solutions at one time


Working on multiple projects
Working on multiple projects


Working on multiple phases of the same project
Both PM and BA has to do multiple tasks at the same time or day. PM tend to have more of those due to more variate role responsibilities.
BA are good with multi-tasking analytical task but should try getting some experience on PM tasks.
 
Also, it helps to know project management theory to get your head around faster.
Critical Thinking
Translate analytical data into proposed decision
Thinking on your feet when stakeholders apply pressure
Change management


Manage scope
Develop realistic schedules
PM gets some time in a difficult situation when stakeholder pushes or influence a project in a particular direction. PM can really think and see the whole picture, resist the push, or find alternatives.
BA can learn this skill by taking in more PM tasks. With time BA will end up in a situation where they need to stand for themselves or project. Sometimes you will do it well and sometimes make a mistake, but you learn in the end.

Step 2: Raise awareness of the PM skills you already have.
As you have seen from the table above, you already have multiple skills that PM also need. What you want to do now is to highlight these skills to the broader population, where hiring managers can see you. You might already have an idea where that is. You are right! We need to make sure we highlight all relevant PM skills and experience in your LinkedIn profile. 
It is not enough to just list them. As with writing the CV, you want to give substance without providing confidential information. You want to show under the profile and previous roles where you have improved these skills; if you feel very strongly about one particular skill, share your experience in a post with your network.
Also, you can participate in group discussions and answer or discuss various project management topics. Eventually, when you pass the first few stages in the selection process hiring manager will likely check your profile. If she/he finds a great story about you having all those skills and understanding, you will increase your chances. You should consider this as an investment, which you can start today.
The next step complements the LinkedIn profile step.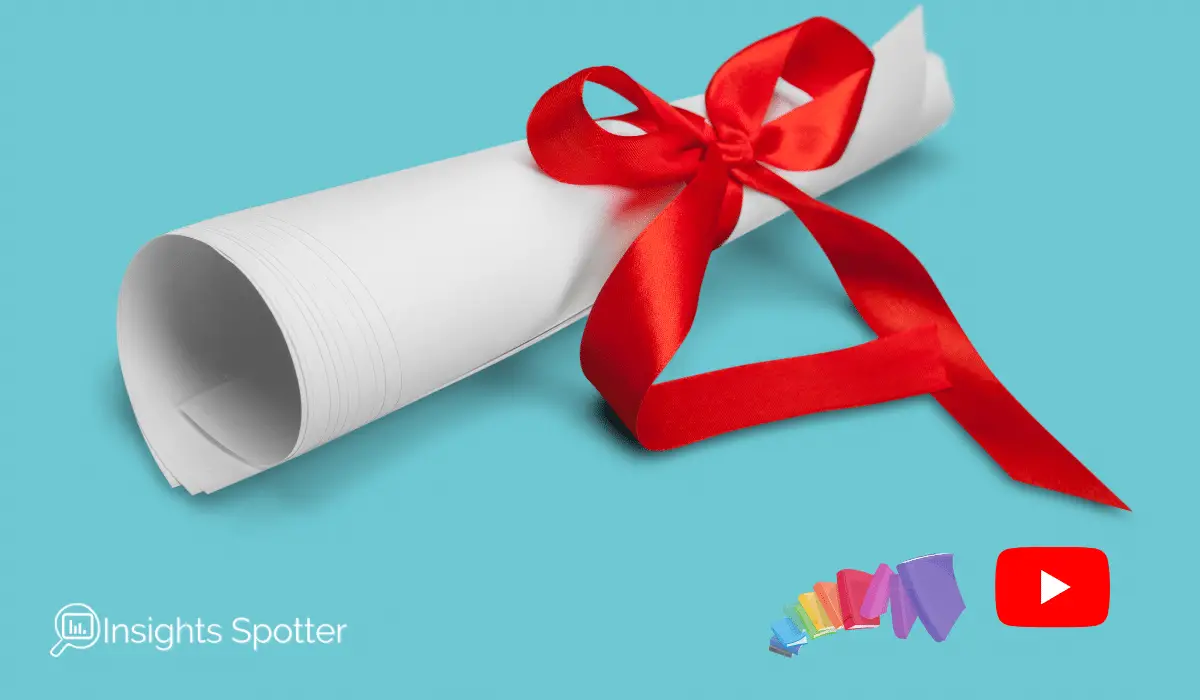 Step 3: Consider Getting PMP-Certified and Expand Your Learning Channels
PMP is just one of the certificates you can get when preparing to be a project manager. One thing to keep in mind that to gain full accreditation, you will need multiple years of experience. However, that does not mean you should not learn PMP as you will expand your understanding of project management. You can also explore CPMP: Certified Project Management Practitioner, which requires no additional experience. There is a nice list of various certificates on the external website I found here: link.
But you should not stop here. There is so much information available online, and I am also contributing to the profession via my website. You can find the complete list of my posts: here. 
Certificates or my website are also not the final stop, YouTube, other posts on the web, Amazon books, LinkedIn learn, Udemy and more. The point is that you should learn as much as possible and start sharing and applying the knowledge. 
If you like to learn more about the books that helped me be a better PM, check out this post: BEST NON-TECHNICAL BOOKS FOR PROJECT MANAGEMENT.
Doing certificates and learning about PM concepts is actually the easiest thing you can do in preparation to become a PM. Getting exposure to PM tasks and taking full responsibility for the budget, business expectations, and resources is a bit more challenging and much better education than sitting in the class. The best way to become a PM is actually to do it. 
Also, if you have completed PM tasks, you will be much better and more confident in interviews when applying for new PM roles because you will know what you are talking about from practice. You just know when somebody did those tasks instead of reading about them.
Step 4: Make Your Intentions Known to Your Current Manager
Do not be afraid to have 1-on-1 with your current manager and express your interests to become a PM. Usually, managers are very supportive of you to continue to grow and develop. Yet, you should still have an elevator pitch and clear reasons you want to be a PM. They might not want to support you if your interests are short-lived. 
Still, if all is good and the manager clearly sees PM as your career goal, they might even connect you with current PMs in the business. Then it will be your job to build a relationship with the PM, ask for coffee, advise, and even shadow a bit. Potentially through these attempts and approaches, you will get opportunities to start doing some PM tasks. You should be proactive and ask to get more responsibilities. 
The key is to deliver at the end. So, it would help if you were careful not to overdo it. Start small and gradually increase your responsibilities. In the process, demonstrate that PMs can trust you to deliver.
You might need to commit to doing your BA role and, in addition, PM tasks. I would not look at this as additional work, more like a learning opportunity in the trenches. There is no better certificate than actual experience on the job.
Finally, as a PM, you will need to present projects status to senior stakeholders; therefore, you should attempt to agree with the PM to update on some aspects of the project in senior stakeholder meetings. I would suggest presenting elements of the work you have done as a BA on the project. It will give you more confidence. 
These attempts will give you the confidence you need to deliver your project updates with certainty when the time comes. Worst case, the senior manager in the organisation will notice you and might even help on your path to being a PM; thus, do not be afraid and ask your close PM today.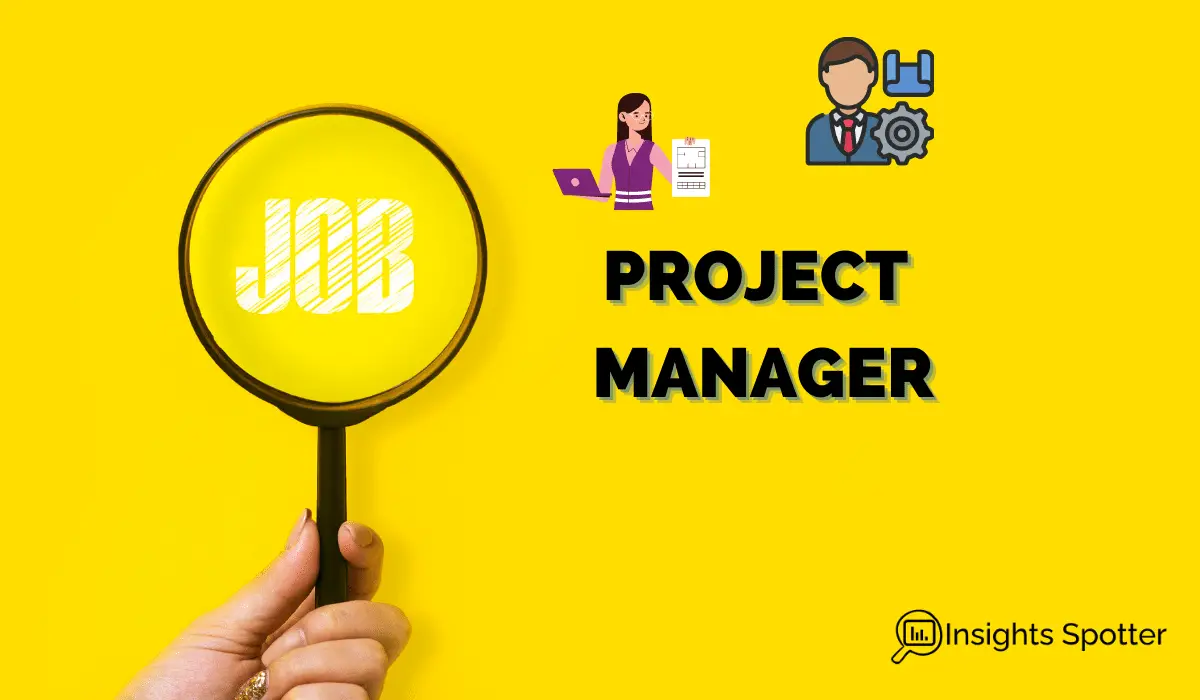 Step 5: Look for a PM job or at least a Dual BA Role With More PM Responsibilities
If you have successfully completed previous steps, you are familiar with the PM role from both theoretical and practical perspectives. You should have a good understanding of tasks and responsibilities. Hence, It is time to get your first job as a PM. 
You might be able to move from your current job to a PM role internally, which I think is a bit harder, and we will discuss why shortly. Or you can try getting a new position in the market, potentially as a junior PM.
Can You Get a PM Job In Your organisation? 
Even though many organisations advertise that they like the internal migration of staff, in my experience, colleagues would find roles faster externally. There are just many more positions outside that will fit your current profile and situation. Plus, I found that people tend to judge you based on where you have started and not what you have become. It is hard to break that first impression. Thus, you will need to fight extra to get that PM position internally. 
One other thing to keep in mind, PM and BA roles are slightly different in terms of responsibilities but theoretically equal in a company's hierarchy. Still, it is not the case; people see the PM role as a promotion. 
In terms of actually finding a job, you will need to hustle. If you try internally, keep on asking people about opportunities and express interest that you want to be a PM and have already done a lot.
Can You Get PM Job Externally?
If you decide to try your luck externally, you should find PM or hiring managers in other organisations and ask for a coffee. People like to discuss their career paths, and you can learn one or two things from that.
Apply to various positions that fit your skills level, and always try writing a separate message via LinkedIn. Sometimes, you will find hiring managers contacts or HR representative on the organisation's site on LinkedIn. In the message, indicate your interest in the company and position; then, direct them to find more about your skills. 
No magic here either; you will need to work hard, and eventually, you will become a PM. The most important thing is not to give up before you succeed.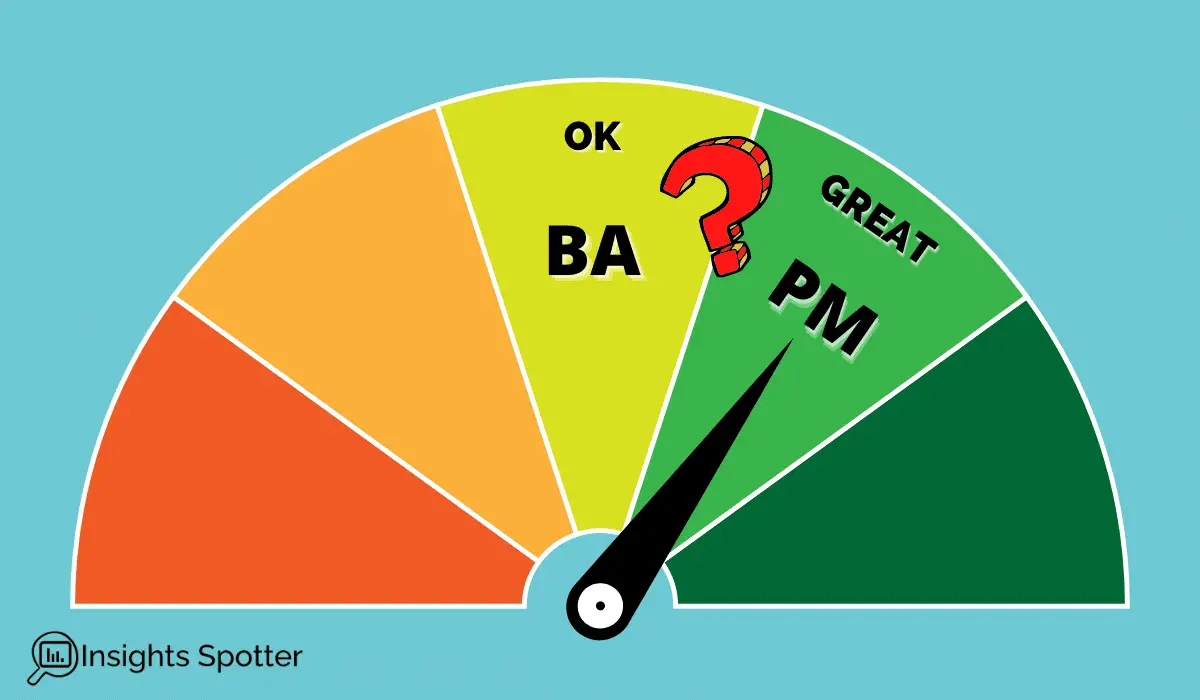 Which Is Better, Project Manager or Business Analyst?
There are particular benefits in both roles. If you plan to switch from business analyst to project manager roles, you should consider if the PM role matches your character.
PM role brings technical skills and leadership/political skills to manage the team and stakeholders. PM tends to look into a bigger picture rather than details. They usually have multiple varied tasks rather than a few of the same. If you like to move to a strategic role to get things done, PM is the answer.
BA is the role if you like to focus on a few problems in more detail and do not like to spend too much time managing stakeholders, preparing presentations, or answering why the project is delayed. Also, you might not like spending a lot of time planning and replanning the project and managing all resources.
BAs often feel like detectives because they investigate the business situation by piecing smaller parts in the process to get the bigger picture. Ultimately, the investigation will suggest options for a business solution. As a result, you will always be learning new things about business and its issues.
Some would say that PM is people movers as they spend a lot of time aligning people to the right activities at the right time. They make sure that BAs have enough information to learn and understand business and agree on their availability for the project. So, you will become an expert in liaising with various stakeholders and will learn to manage their expectations. But you might not get as much time learning technical skills.
Now, it is for you personally to answer which role is better for you.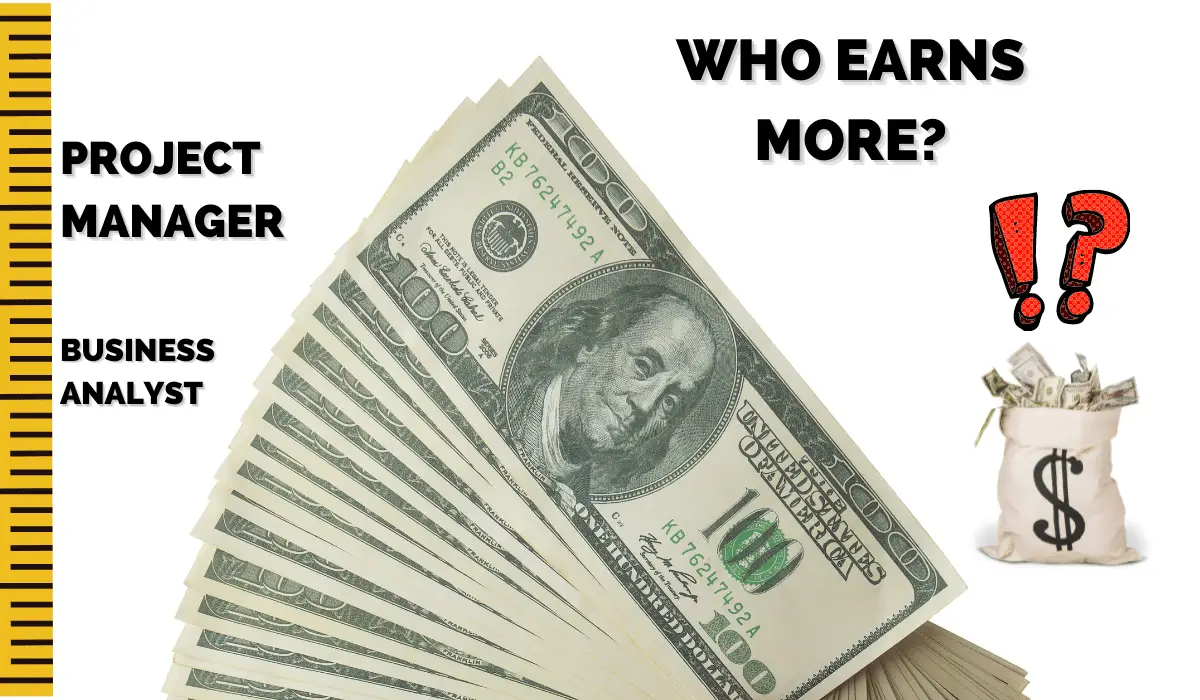 How Are BA and PM Salaries Different?
Now that we have established our differences of PM vs BA and understood personal interest and suitability, time to consider the nagging questions of money. It would help if you always choose your career based on your interests as money will not make you happy, but the proper challenge will. Having said that, let's look at how salaries compare in 4 countries between these two roles in the table below.
Business Analyst vs Project Manager: Salary In Four Countries
| Country | Business Analyst / Senior BA | Project Manager / Senior PM |
| --- | --- | --- |
| US | $75,338 / $99,000 | $87,305 / $117 000 |
| UK | £42,365 / £57,000 | £45,947 / £61,000 |
| India | ₹756,000 | ₹1,400,000 |
| Germany | €54,381 | €64,000 |
Source: Glassdoor
Project Manager Salary: US vs UK
| PM Level | US | UK |
| --- | --- | --- |
| Project Manager Salaries | $87,305 | £45,947 ($64,000) |
| IT Project Manager | $102 000 | £52,000 ($72,500) |
| Senior Project Manager | $117 000 | £61,000 ($85,000) |
| Assistant Project Manager | $74 000 | £33,000 ($46,000) |
Source: Glassdoor
I know a bit more about the UK market so will talk about expectations there. The BA graduate salary starts like in many other professions between £20,000 and £30,000. More experienced professionals (3+) begin to get closer to medium price and above. If everything is going well and you are improving a lot in your field, which needs to be lucrative, after 5 years, you could start considering £60K to £70K. You will need solid domain expertise in a specific lucrative area and be lucky to get anything above that. For example, if you are in investment banking and you are an expert in Fixed Income or Equity modelling software, maybe you can get up to £95K.
Like BA, project manager salaries can vary and can go quite high depending on the country, responsibilities assigned and industry. We have looked into the country differences above. The above story about BA is also true in terms of domain expertise and getting lucky. What you can see is that PM has slightly higher salaries on average due to higher responsibilities. What you cannot see from the table is those extreme case. I know one project manager working as a contractor in a large bank and earning £1000 per day. That's ~£20K per month… 
So, the PM has more opportunities at the higher salary range than BA, who would typically hit the sealing at around £70K.
Where To Look For Project Manager Jobs?
To keep in mind here, a project manager is not a job title; it is a function that you fulfil for the organisation. You can find PMs anywhere, like construction, manufacturing, retailers or AI or other technology companies.
When you learn about project management, you can really apply it to any project. The differentiating factor is your domain expertise, which will give you a job. For example, you can be great with data and finance. Thus, you would be perfect to work in the banking industries.
From Business Analyst to Project Manager Conclusion
In my view, neither position is superior to the other. It all depends on your personality and what drives you, what gives you joy. 
If you like detail analysis and playing a detective, then the Business Analyst role is for you. If you like managing people, processes, other resources and see a larger picture, then the Project Manager role is one to choose.
Both roles have further career steps. When I have started considering a move to PM, I have found the graphic below very useful, and you can also visit the website where I found it here.
If you would like to answer what drives you, check out the book in this amazon link. Flow: Living at the Peak of Your Abilities. 
I have written about several other books that help with Project Management in the link below, one of these books is also "Flow". Checking that post will give your a better picture of what it is about BEST NON-TECHNICAL BOOKS FOR PROJECT MANAGEMENT.
Good Video on YouTube
---
Subscribe to our newsletter!
---
ABOUT ME
I am an experienced ex. Business & Data Analyst and now a Project Manager with multiple years of experience gained in several international companies.
These days, business problems require data crunching and telling stories to make the right decisions. Simply put, business stakeholders need insights into their projects and deliveries.
This is where I come in. I have learned and applied Python, Power BI, SQL and Excel to analyse and present data. Also, I gained experience in Project Management and Business Analysis. So, I can not only spot insights but execute business decisions. Moreover, I can teach you as well. Read More
---
Best Books
---
Need Project Manager's Help!?
Check out the Fiverr marketplace if you do not have time to run your own projects or just need extra help. They do have multiple project professionals, including project managers. Maybe you will find just the right fit to take some burden from you. I have used Fiverr in the past. The prices are also not too bad. If you seek PM via the corporate route, it will be easily 5x the price.