What is a Project Team? People, You Need To Deliver Excellent Results
As you may know, project management is a team sport, and you will need a team to succeed and win. I was lucky enough to gain experience in numerous project's roles and hoped to give you some insights into this project team and who is in it?
A project team is a temporary group of cross-functional individuals with complementary skills selected or assigned to the project's scope of work on a full-time or part-time bases. Although members are often joining internally from an organisation, they can also be external contractors or consultants.
In the rest of the blog post, we will unpack the definition and explore roles and responsibilities. Plus, we will understand why it is highly essential to clarify these at the beginning of a project. Also, dive into other aspects of a project team, like location or formation. Ready to learn more about this mysterious SWAT team in the business? Let's go!
What Does Project Team Definition Mean?
Temporary Group
The project is a temporary endeavour, and in the end, the team will be reallocated to other initiatives or go back to the typical day to day work.
Cross-functional individuals
Usually, the project spans multiple departments and require a contribution from individuals with various complementary skills. That is not to say; smaller projects may just use people from the same department.
Selected or assigned
A project manager or sponsor do not always get to choose the team. The business may allocate available resources. If the project team is lucky, it can be more selective and pick the best individuals for the job. 
To understand if an individual belongs to a project team, you need to assess whether he/she is directly contributing to tasks in the project scope. People will spend full-time or part-time on the project, but if they address tasks in the project scope, they are part of the team.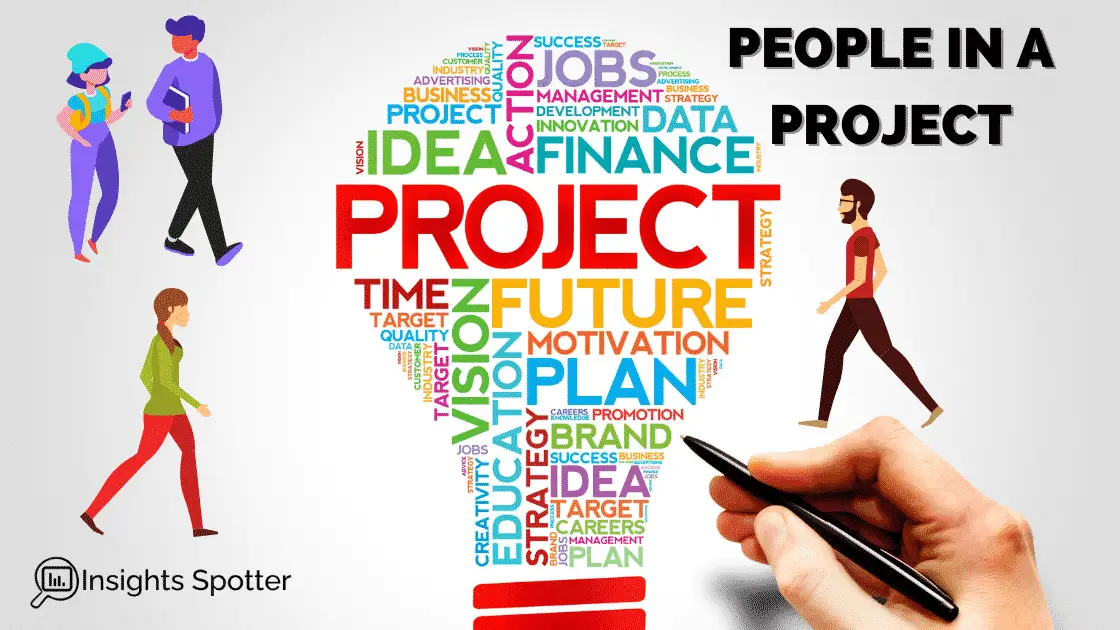 The organisation's employees, contractors or consultants
If the skills and experience are available for a specific project task in the organisation, it is usually more cost-effective to assign that individual with skills. 
However, sometimes there is a gap between what the project needs and what is available. In such a situation, a business may need to go to the market for consultants and contractors, who are both temporary resource, and they are lending their great experience for a higher price.
It could be great for business as it can acquire the required skills for a project quickly and say "goodbye" easily when the project is finished. 
The business has to recognise the project team
higher management needs to give authority to the project manager and the team to use companies resources (also staff time) to work on project tasks. 
Plus, cross-functional individuals usually have different line managers, and they need to be aware of and accept additional duties assigned to their team.
If you are interested, what makes an endeavour a project? Check out my post on A Project Characteristics. Or, if you would like to learn more about other business resources used in projects, check out my post on Business Resouces In Project Management.
How Can Members Be Grouped In Project Team?
Individuals in the team are contributing to a project's activities, objectives and success in various capacities. All members of the unit can be group into three broader categories:
Leaders: Provided leadership and guidance
Member: Members who are completing tasks
Contributor: Providing advice but not directly involved in completing tasks.
Plus, the business has to recognise the team as one unit and accept the work scope to give the right support for the project.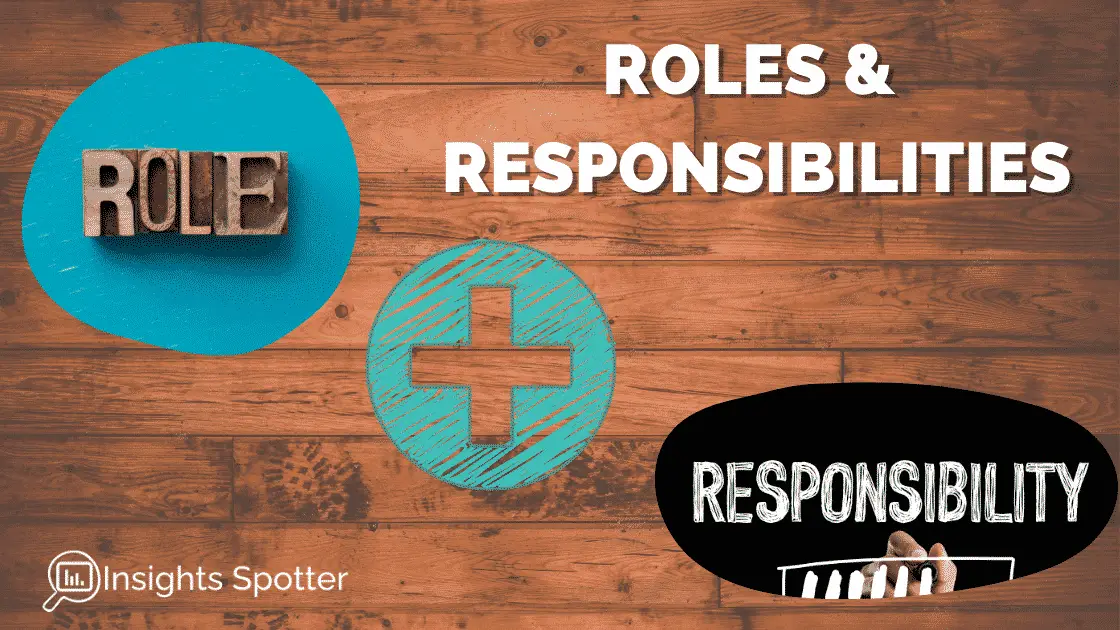 What are the project team's

r

oles and responsibilities?
The project's success depends on a well selected and tuned project team that knows the roles and responsibilities. All members of the group need to go in the same direction to achieve project goals. 
The project manager should define each team's roles and responsibilities on the project as soon as possible. There are multiple reasons for that:
Provide clarity:

Everyone is clear about what they need to do and do not need to go to the project manager for every minor task to clarify who owns it.

Alignment to activities: 

Everyone is aligned with specific objectives and activities, which helps plan resources' time and highlight ownership and accountability. If the owner does not perform the task project manager can directly discuss it with the assigned individual.

Clarify expectations from team members:

The project

 manager can clarify what is expected from the project team individual members and highlight how their work contributes to the whole project. Thus, making the group more motivated to work together.
What Is the Roles & Responsibilities Workshop?
When the team is formed, you should have a Roles & Responsibilities workshop. In such a meeting, you would present goals for a project and proposed roles and responsibilities for the team members in a group setting, allowing us to discuss any concerns. 
Finally, when everyone is clear an accepts their role, the project manager can hold them accountable for their tasks. Alternatively, the project manager will end up doing everything. Plus, there will be constant conflict in the team and misaligned expectations as nobody is entirely clear, who is doing what. Soon after that, missed deadlines follow.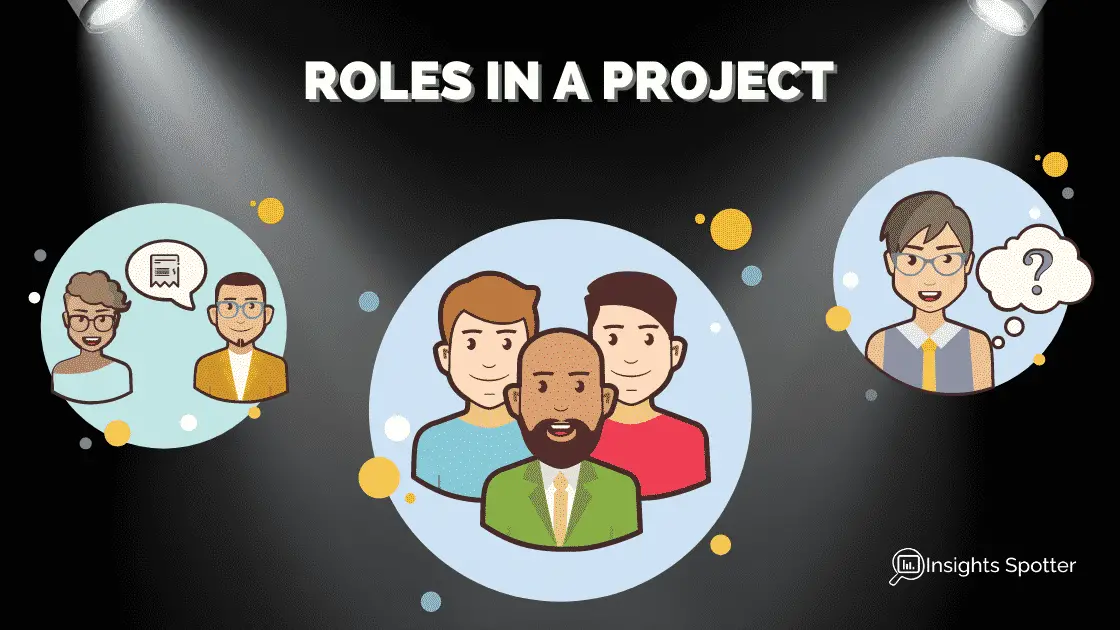 What Are Typical Roles In A Project Team?
If it is a new team, sometimes, it might not be clear what various roles are in the project setting. Thus, exploring several positions on the project may help to clarify some of the confusion.
Who Is Project Manager In A Project Team?

Leader And Member
The project manager is a topic in itself. However, the main goal of the individual is to lead a project through good & bad. The individual would also make sure that everything is going by the plan or course-correct project where needed. 
This person would look after six constraints cost (budget), time, scope, quality, resources, risks. Plus, he/she would make sure that the project team is effectively managing all stakeholders, including contributors. 
Other project management responsibilities
Initiate a project and present business case

Create a project management plan

Manage deliverables and activities

Secure and manage resources, like project staff, budgets

Lead the whole project through the project lifecycle

Lead workshops and Steering Committees

Together with Steering Committee or other senior managers, agree on project methodology.

Establish a project schedule and determine each phase

Provide regular updates to stakeholders based on a stakeholder management plan

Managing RAID log: Risk, Issues, Assumptions and Decisions (could be variation)
Note: If you would like to learn more about project management, check out my extensive post on HOW TO BE SUCCESSFUL IN PROJECT MANAGEMENT, YOUR GUIDE.
Who Is Business Analyst In A Project Team? Member
The business analyst is analysing business needs and provides recommendations for improvements. Improvement processes usually come in the form of a project. Therefore, they are looking to understand the problem, options and requirements. Then, the project team need to deliver these after the right approvals received. 
The analyst will often create a current operating model (COM), then together with stakeholders, make a target operating model (TOM). The difference is what we call The GAP. The project goal is to fill that gap.
Other business analyst responsibilities
Help with defining project plan and goals

Support test efforts

In general support project manager sometimes cover him/her when needed in meetings.

Who Is Data Analyst In A Project Team? Member
The data analyst is a slightly different breed from business analysts. A data analyst may work in a business setting or a project, especially if it is data-driven.
A data analyst's primary goal is to collect data samples, get some broader understanding of the project data, infer some information, and produce some prototypes and suggestions for the business. 
Gained insights, allow business and the project to have a direction to explore further. More about data analyst, please have a read in my previous blog post HOW LONG DOES IT TAKE TO BECOME A VALUABLE DATA ANALYST?
Who Is Project Sponsor In A Project Team?

 Leaders And Contributors
The project sponsor is a champion of the project in the business. They usually have high interest and power in the organisation. Therefore, the project manager works very closely with this individual in a partnership.
The project sponsor would sign-off requirements make critical decisions on the functionality needed for the business. They would generally participate in various planning meetings, like workshops. Also, project status updates like working groups. 
Usually, they are experts and managers in the business unit that the project is trying to improve. Thus, they could allocate additional subject matter experts (SMEs) to project efforts.
From the political perspective, they have contacts at a higher level as well, so if there any conflicts or priority calls, they could facilitate discussion, solutions or decisions.
Other project sponsor responsibilities 
Making critical business decisions in the scope of the project

May provide project budget or approve, but that depends on the structure of the organisation.

It helps to acquire some of the resources, like SMEs time.

Promotes project goals and objectives in an organisation

Who Is Executive Sponsor In A Project Team? Leaders And Contributors
The executive sponsor is usually a high-ranking member of management, likely at an exec level, i.e. company board. If they are an exec. sponsor for the project, it is happening in their business area. They would be the once to acquire a budget for the whole department, and part of it goes to strategic initiatives, i.e. projects.
Given that they sponsor the project, the board will hold the exec. sponsor accountable for the project success or failure. They may approve the project's strategic direction and delegate approving all scope elements to a project sponsor.  
If there changes in scope, some additional funds may need securing at the board level, where exec. comes in. 
Furthermore, together with a project sponsor, the exec. sponsor reviews deliverables and approve them.
Both executive sponsor and sponsor would participate in a Steering Committee, a project governance body providing strategic advice. Read more about it in my previous blog: WHAT IS THE STEERING COMMITTEE? PLUS, 10 TIPS TO REACH GREAT RESULTS.
Who Are Other Members In A Project Team? Members And Contributors
We have testers, data architects, business intelligence developers, database architects, subject matter experts (SMEs) and technical representation, functional/business representation, and vendor representation (if applicable).
What unites them all is that they are actively involved in completing and/or contributing to project tasks at various stages of the project lifecycle. They would not be generally engaged as sponsors, business analysts, or project managers but would provide expertise, skills and knowledge when needed.
The type of people who will work on the project will depend on project needs. 
If you are building a database, you will need data architects at some point. 

If you are designing a dashboard, you may need a data analyst and business intelligence ("BI") analyst or even data scientists.
The team members would have assigned tasks to them at particular stages in the project, and the project manager will have to plan the time so that these individuals can complete these on time.
What Is the difference between Full-Time And Part-Time Member in a Project Team?
As in any roles, project team members can be working part-time or full-time on the initiative. 
If we have a part-time resource, like SMEs or data architects, then they are likely to report to somebody else in an organisation. Thus, while the project is live, you have a matrix-style management structure, which comes with its benefits and challenges. 
The benefits are that you get experts from different fields in the business.

The project manager needs to manage and agree on time allocation with resources' line managers.
Suppose we have a full-time resource, like a project manager or business analyst. In that case, it is slightly easier to manager resources' availability. They would generally have clear objectives and deliverables assigned to them throughout the whole life of the project. 
Typically, you have full-time project staff where an organisation has established a dedicated project department, e.g. transformations, PMO or something similar. 
Having said that, even project managers and business analyst would be working on multiple projects in the organisation at one time. Therefore, the concept of having a full-time staff on a single project is quite a rare occurrence in my experience. I would only expect to have full-time dedicated individuals on significant undertakings, which looks into restructuring the department or business, often structured as programmes. 
Note: Programme is a series of projects that aims to achieve a business objective.
Why A Location Matters For A Project Team?
More often now then ever, you will have a team in various locations and not in the same office or space. There might be various reasons for that. 
The project is managed by HQ, but the project delivery in a different country. 

Maybe you have experts based in a different location. 

Of course, you can also have a global pandemic that makes people work from home. 
In either of these scenarios, you want to make sure that all team members are heard and valued. If you have MS teams or Skype call, make sure to give time to everyone. If possible, use cameras and good lighting to create a feeling of a team being together. 
Also, there is a cultural element. If a team member in a different country, he/she may interpret some heated discussion as an argument. At the beginning of the project, some ground rules could help manage everyone's expectations and address cultural differences. 
If possible, you want the project team to be in the same room when starting the project, like in roles & responsibilities meeting and planning workshops. The main benefit is that it will be easier to cooperate and avoid confusions in the project's crucial beginning stages. If you start your project well with all the team on board, it will just be smoother in the future.
How To Convert Separate Individuals Into A Project Team?
You got your resources, which are separate individuals. Yet, they are not ready to work together. For starter, you can communicate all the roles & responsibilities; it makes the team members aware of their tasks. However, they need to learn how to play together. For that, they will need to go through Tuckman's five stages below.
It might not be some official meeting to make people go through all of them because some will come naturally. In some other cases, it is good to be aware of the stages below to see if the team is stuck on one of those and can give a nudge to move to a functioning team.
Forming:

 The team comes together, commits to the project, start learning about all factors.

Storming:

 Time to understand what is what? Understanding roles & responsibilities, as well as positions. This is the communication stage.

Norming: 

Work towards supportive behaviour in the group; create group norms; achieve cohesion.

Performing:

 Time to work as a team; problems are solved in a group setting; feeling a spirit of cooperation.

Reforming or adjourning: 

When all is done, time to celebrate and reflect on the experience. 
A Project Team Conclusion
As you can see, multiple individuals contribute to project success. A project manager or sponsor is often the one to present results to senior managers. Yet, a lot of actual work is done by the technical team and business analysts. That is not to say that the project manager's or sponsor's roles are not necessary. 
The point is that a combination of all the roles working together is what makes a project successful. A great project manager, like a symphony conductor, knows when each instrument needs to play. He/she knows where everybody "sits" in the project and how to create a smooth flow in the project by utilising a project team 100%.
It is not enough to know the technical skills of a project team, but also soft skills. The more the team can work with other people in the business, the less the project manager needs to handhold individuals in meetings. Plus, excellent soft skills help people in the group to get along and ensure cooperation is achieved.
In short, we need an excellent functioning project team that has skills and capabilities that complement each other. The whole group of individuals create that dream team, who can win the game. In project work, this means delivering objectives within all six constrains:
Cost (budget)

Scope

Time

Quality

Resouces

Risks
I hope you are working in a functioning team or are creating one. Hopefully, if you see some issues with your group, the post will give you some ideas to further explore. 
---
Subscribe to our newsletter!
---
ABOUT ME
I am an experienced ex. Business & Data Analyst and now a Project Manager with multiple years of experience gained in several international companies.
These days, business problems require data crunching and telling stories to make the right decisions. Simply put, business stakeholders need insights into their projects and deliveries.
This is where I come in. I have learned and applied Python, Power BI, SQL and Excel to analyse and present data. Also, I gained experience in Project Management and Business Analysis. So, I can not only spot insights but execute business decisions. Moreover, I can teach you as well. Read More
---
Best Books
---
Need Project Manager's Help!?
Check out the Fiverr marketplace if you do not have time to run your own projects or just need extra help. They do have multiple project professionals, including project managers. Maybe you will find just the right fit to take some burden from you. I have used Fiverr in the past. The prices are also not too bad. If you seek PM via the corporate route, it will be easily 5x the price.