What Is the Difference Between Business Analyst and Scrum Master?
 It's pretty common to interchange several roles, especially as a new strategy or set of values kick in the company. Indeed, this is often observed with the business analyst and scrum master positions.
When a company employs the principles of agile transformation, they often assign somebody to take the responsibility of a scrum master. More often than not, this position is given to the business analyst, assuming that the set of skills necessary is the same or at least similar.
However, a business analyst and scrum master may present similar qualities, but the responsibilities are not precisely identical.
The difference between a business analyst and a scrum master primarily lies in their focus. 
The scrum master ensures the team's efficiency, consistency, and continuous development. On the other hand, a business analyst is more objective, focusing on the business operations or requirements and tackling concerns such as product backlogs, customer needs, marketing strategies, etc.
But is there still a chance that a business analyst can take over the part of a scrum master and vice versa? If you're asking the same question, you better keep reading as we lay down the answers in the following few lines.
What Are the Differences and Similarities Between a Business Analyst and Scrum Master?
Scrum masters and business analysts are critical roles in a project team running an agile project. They often require similar skills but in different levels of usage and manifestation. This is where the confusion between their distinguishing features lies.
However, once you understand the unique tasks and responsibilities they carry out, it's easier to determine which is which.
But before we delve into the key differences and similarities between a business analyst and a scrum master, it's imperative to understand how each position is defined.
Scrum Master Vs. Business Analyst
A scrum master oversees the implementation of the scrum process on a particular project. This position is pretty standard within the software development industry, where scrum has become a popular framework.
Nevertheless, scrum relies on an agile framework where problems are addressed using approaches that promote collaboration and self-sufficient functions simultaneously.
Simply put, a scrum master performs different roles to ensure that the scrum framework is adopted correctly. Some of these roles include becoming a coach, mentor, and process facilitator.
On the other hand, business analysts serve on the technical aspects of business operations. Their function is to ensure that the processes involved in operations are aligned with business goals and improvement of customer satisfaction.
On projects, their work often requires them to gather, analyse, and validate requirements and work with the technical teams to address them.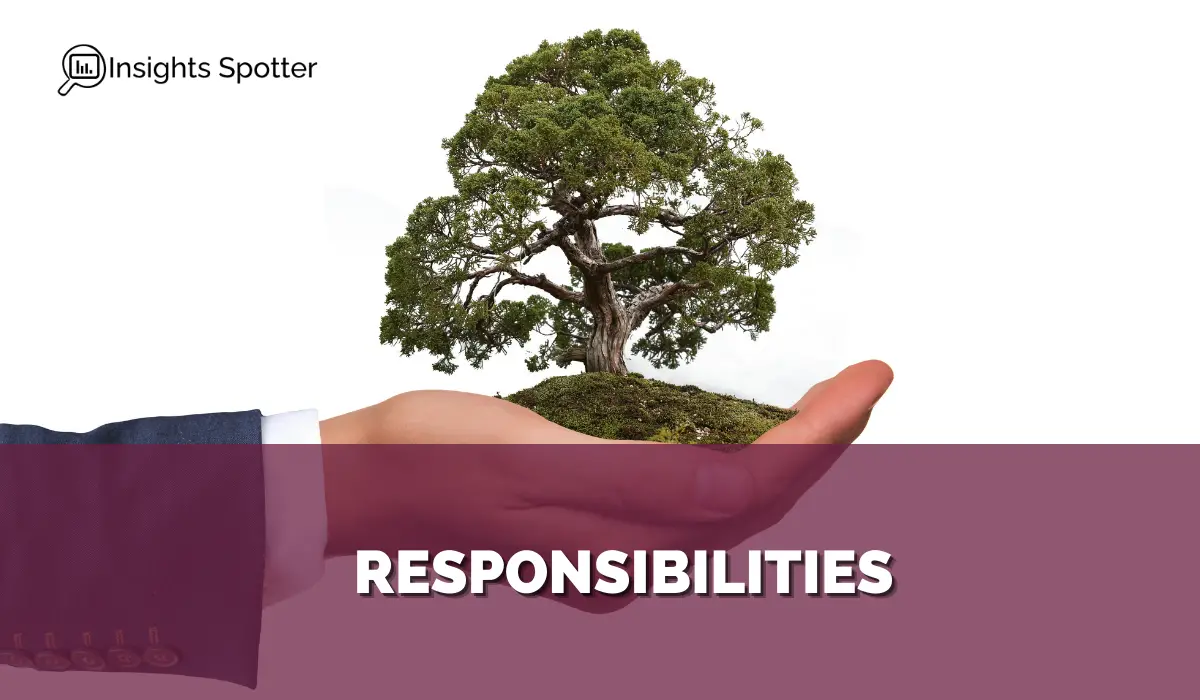 Responsibilities
Scrum Master Responsibilities
1. Providing training on scrum processes.
Scrum masters spearhead the training relating to understanding scrum framework and agile methodology.
They ensure that everyone in the project team understands the purpose of the methodologies and principles governing scrum.
Likewise, they present the key processes, elements, factors, and approaches outlined in the implementation plans.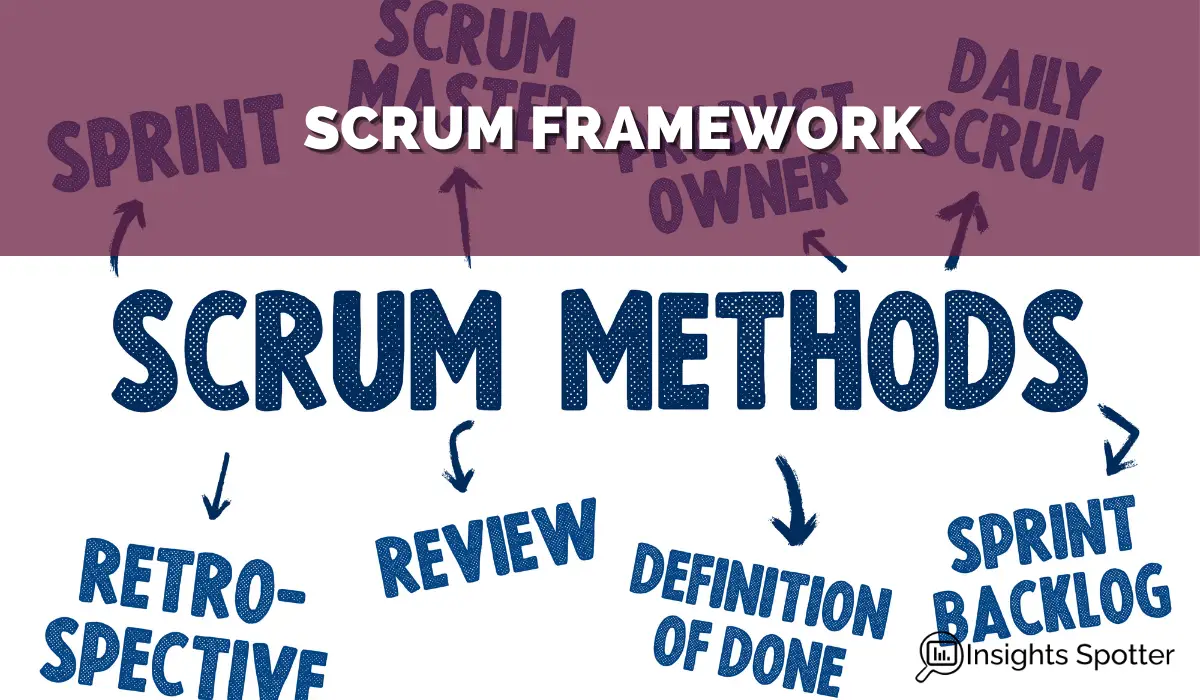 2. Coaching the organisation about the application of the scrum framework.
When it comes to implementing the scrum processes, scrum masters help the team understand the strategies and empirical approaches employed in completing complex projects.
Moreover, they ensure that all team members perform with efficiency, discipline, and self-management on their level. They also provide a clear concept of cross-functionality meeting team members from different departments to work on the project.
3. Helping team members achieve high-value results and identify increments based on their performance.
Scrum masters perform a lot of coaching, especially at the beginning of the project implementation. This ensures that all team members develop the necessary skills to provide high-value results that drive the project's success.
Also, scrum masters help the team members identify the appropriate increment for work delivery based on the key indicators of their success.
4. Creating an atmosphere of productivity and psychological safety.
Providing a safe and encouraging working environment is probably one of the most critical roles of a scrum master.
Anyone who holds this position should understand the importance of psychological safety, where team members are free to express their ideas without feeling degraded.
Furthermore, the scrum master also ensures that productivity is not impeded.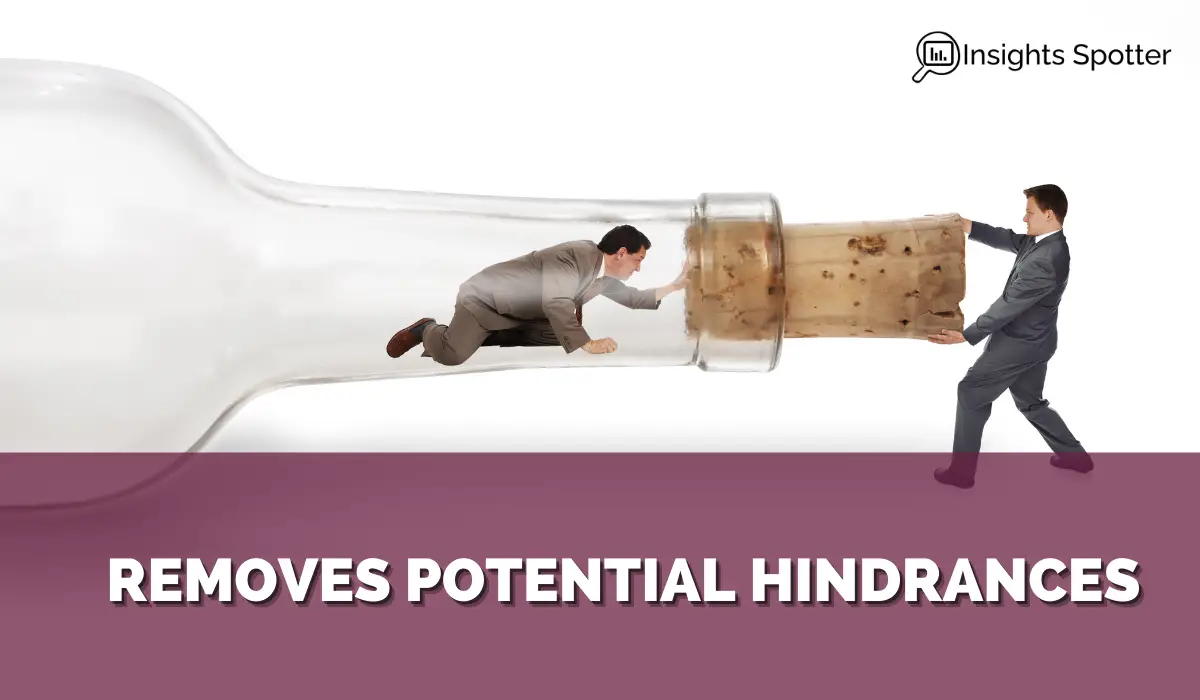 5. Removes potential hindrances in the smooth implementation of scrum processes.  
Scrum masters keep the process smooth, not just by checking in on the individual and collective functions of the team. But also by projecting potential issues and their impact on the implementation of the framework.
Business Analysts Responsibilities
1. Formulating a detailed business analysis.
This is perhaps the primary role of the business analyst – to provide an in-depth understanding of the current status and potential future of the business or specific department.
In this sense, business analysts require expertise in data acquisition (i.e. surveys, interviews, workshops, SQL code); then, they complete data analysis to provide vital insights and strategic options based on data that would materialise the business goals. 
We also see this as current status understanding (i.e. Current Operating Model), investigating the future (i.e. Target Operating Model) and providing GAP analyses to show how to get between two points.
2. Conducting market research.
Business analysts are directly involved in market research when introducing new products or investigating the business situation. As they become a prominent part of the scrum team, together with the product owner, they ensure proper interaction with customers to understand their needs and where the business or project stands in terms of providing solutions.
It really depends on how the team is structured. You might not even have a specific role of the business analyst when a new product is introduced, and the Product Owner takes that responsibility. 
Plus, you can also have a Product Manager role that drives the new product's roadmap. Hence, both the Product Owner and Product Manager would share business analyst responsibilities. 
Still, all three roles can work together to deliver the project, and we will explore later in the post where does Business Analyst help.
If you like to read more about Product Managers and the relationship between Product Manager and Product Owner, check out my post: 
3. Specifying business requirements.
The business analyst defines and manages requirements that the implementation team must comply with, and the senior business stakeholders agree and approve. They use techniques like documentation review, shadowing somebodies work, interviewing, data analysis, workshops and more.
When changes are made, the business analyst will ensure all requirements have been implemented. It's not uncommon to encounter people referring to business analysts as agents of change.
They are drivers in the organisation to adjust processes or shift to a different technology, improving performance and results. 
4. Performing analysis, operational and financial modelling.
Business analysts don't simply gather information. But they work to understand it, fitting the data they acquire to establish operational and financial models suitable for the target state for an organisation. These tasks heavily rely on their technical expertise in finance, operational and IT departments. Thus, there is a lot of collaboration with cross-functional teams.
5. Taking an active part in budgeting and forecasting.
Considering the scope of a business analysts' work encompasses contribution to budgeting and forecasting, they are directly involved in financial planning and drafting long-term business and project plans. 
Understanding what needs to be done to achieve business objectives can provide a detailed comprehension of changes that need to be made and potential costs. These insights influence the company's direction in chosen technology, process changes and timelines.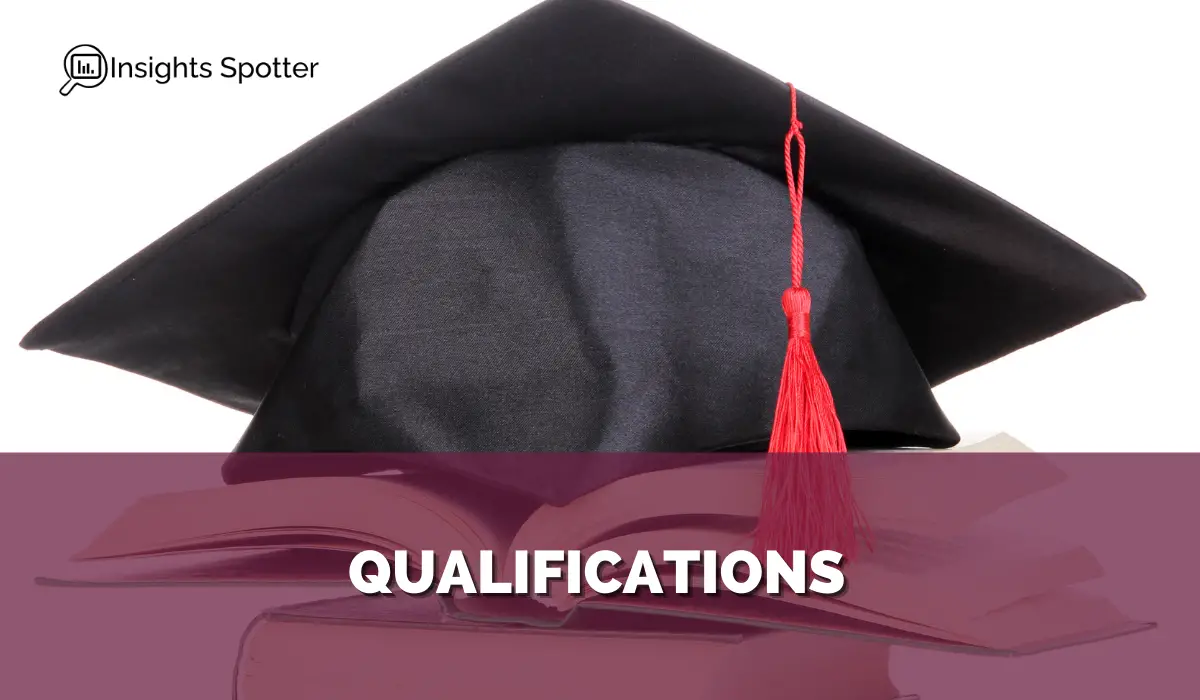 Qualifications
Scrum Master Qualifications
Scrum masters don't need a string of criteria for qualifications. Instead, most business owners and managers look into your experiences and training.
Hence, the more project you've handled before or the more involved you are in implementing scrum methodologies, the higher your chances to get hired for the job.
Must have a bachelor's degree in Information Technology (IT)/ Business/ or a related field

Has experience working with agile processes

Has a scrum master certification
Business Analysts Qualifications
Business analysts are undoubtedly one of the prominent positions in any company or organisation. There are quite a few variations of the role, depending on the size of the business, level of position, owners or managers. 
For more senior or strategic business analysis roles, you might need an MBA. However, it might be enough to have the right project experience or certificates more often than not. It is more critical you have direct project experience, technical business analysis knowledge and a specific domain exposure, like Finance, Health or Specific Manufacturing.
Must have a bachelor's degree in business, IT or a related field

At least 5 years of experience as a business analyst

With advanced technical skills

High competency and knowledge on business analysis and application

Extensive experience in projects
I personally have an International Diploma in Business Analysis from BSC: Link. Having something similar will give you more knowledge about the subject than most currently active business analysts.
Skills and Qualities Shared by Scrum Masters and Business Analysts
While it's apparent that scrum masters and business analysts differ in terms of qualifications, key responsibilities, and the very nature of their position, they do actually share some of the fundamental skills required for both positions.
1. Communication
Scrum masters and business analysts need to be good communicators. Both roles are known to relay and acquire information from stakeholders. Hence, they have to be well-versed in verbal and written communication.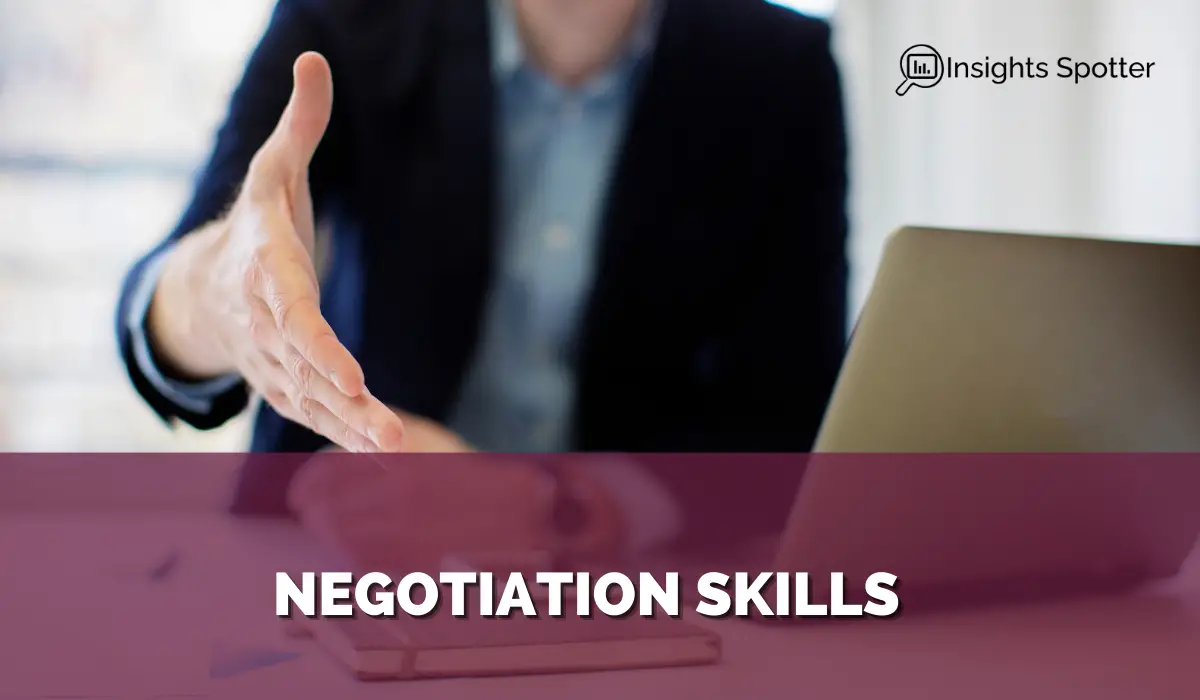 2. Negotiation
Scrum masters often negotiate inside the team while business analysts negotiate with customers, the developers, and the product owner. The negotiation techniques they employ have common grounds most of the time.
I have recently read an excellent book on negotiation: Never Split the Difference: Negotiating As If Your Life Depended On It by Chris Voss. If you want to improve this skill in your daily life or as a project professional, this book is highly recommended.
3. Facilitation
Both the scrum master and the business analyst are involved in facilitation. The scrum master facilitates the flow of the scrum process, while the business analyst facilitates discussions around product or business requirements for a solution; then manages the backlog of requirements alone or hands over them to the Product Owner in a Scrum team.
4. Problem Solving
Finding solutions to operations and team management problems seems to be one crucial similarity between the scrum master and the business analyst.
The only difference is that business analysts primarily identify issues within the project's technical aspects. In contrast, the scrum master tries to resolve problems within the team and the agile approach.
5. Leadership
Both positions require a certain level of leadership. After all, both the scrum master and the business analyst aim to provide influence that drives productivity within the organisation. Likewise, they are most well-versed in the goals and the process in which these goals are achieved.
Scrum master leads agile team to implement scrum most optimally in the organisation. Business analyst leads the organisation and cross-functional teams to implement the change based on the requirements and identified opportunities.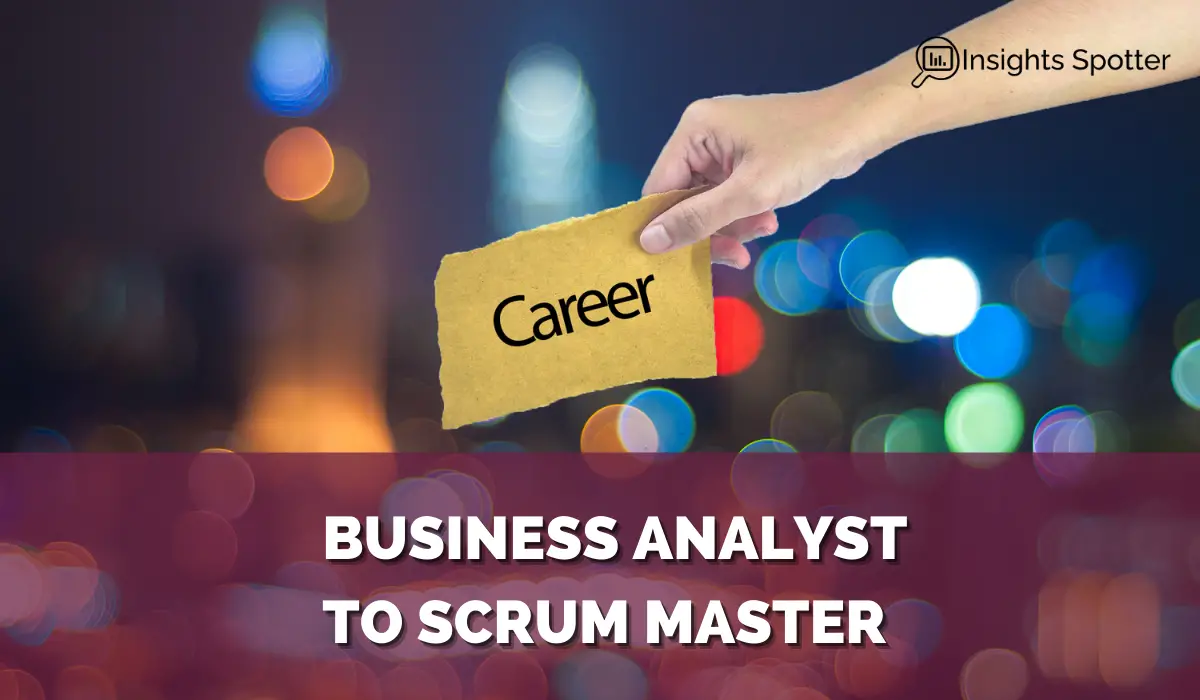 Can a Business Analyst Be a Scrum Master?
Yes, business analysts can be scrum masters if they update their knowledge with a scrum master certification.
Most companies look for individuals with an educational background in IT or business to fill the scrum master position and the certification. Therefore, if you're a business analyst by profession, the chance of attaining the job is high if you have had proper training.
But you may wonder why training and certification are still crucial elements to becoming a scrum master, given that you already have a background in business.
This is where the critical difference between a business analyst and a scrum master comes into play.
Scrum masters look after the team to aim for greater agility and effectiveness. They concentrate on strengthening the team and looking into internal issues that interfere with collaboration and interaction among different teams or departments. To perform the duties and responsibilities of a scrum master, mastery of the agile principles is crucial. 
Unfortunately, these concepts, practices, and specific skills have more in-depth application once you undergo the proper training, not just from your business background.
You see, as a business analyst, you mostly work to optimise the business and departments, but rarely do you look into the optimisation of the teams or agile practices. Your job is to meet requirements and make necessary changes in people, technology and processes to achieve business objectives, but not to ensure that they internally share work most efficiently.
Hence, as a business analyst, if you were assigned the position of a scrum master, the likelihood of falling short or facing difficulties in performing the job is higher without the needed certification.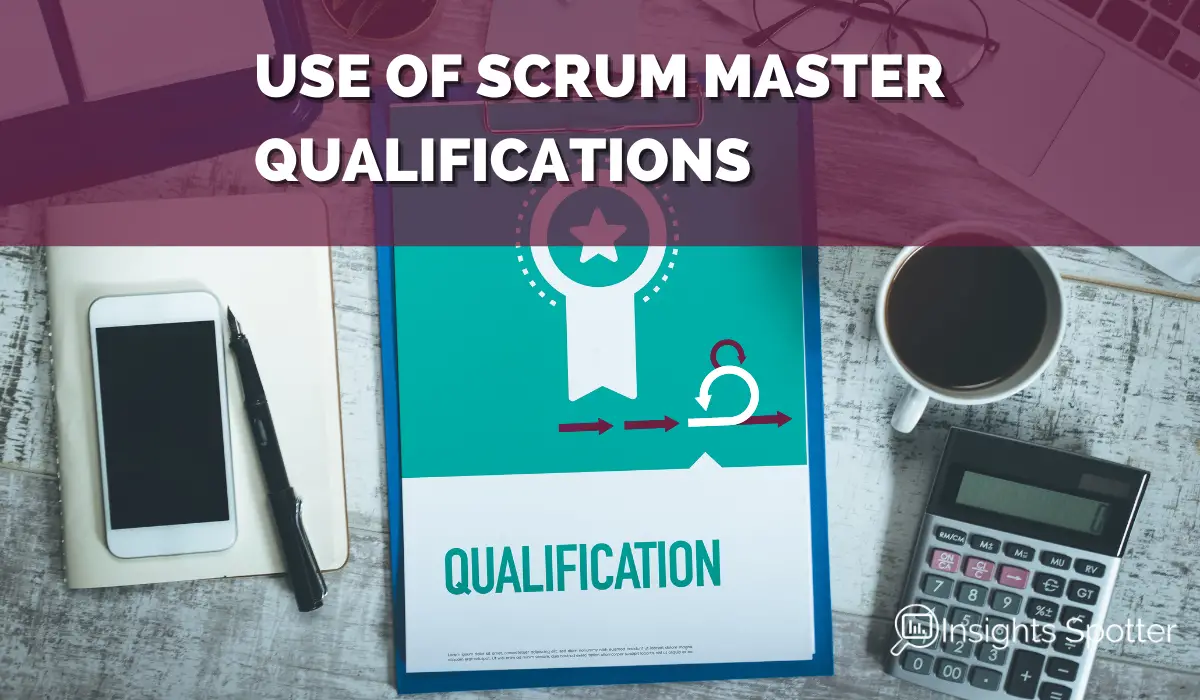 Is Scrum Master Certification Good for Business Analyst?
Yes, acquiring a scrum master certification will benefit a business analyst.
Although scrum masters and business analysts share many qualities as far as leadership and business skills are concerned, the applications of these qualifications differ in terms of the responsibilities they carry out.
For example, a business analyst that works alongside developers often looks into the technical business perspective of product development and how the designed solutions fit the business goals and needs.
Simply put, there's a lot of black and white processes focusing more on the end product or delivery of the project.
On the other hand, a scrum master will pay more attention to the approach and processes instead of the technical specification and requirements.
So, if you're a business analyst aiming to become a scrum master, you will need training and certification similar to what they give at Project Management Institute.
This training will provide you with the necessary skills to adjust your default mindset as a business analyst expanding your perception on the lenses of a scrum master. It will provide information on the best agile applications and strategies for effective team interactions.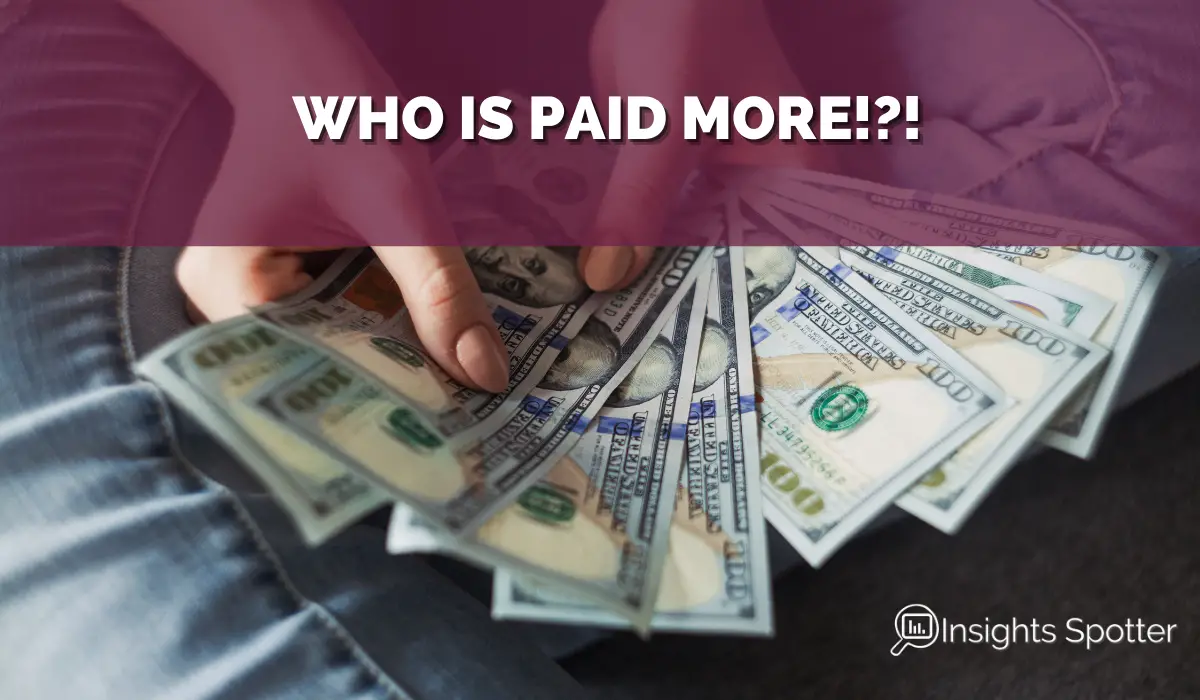 Who Gets Paid More Scrum Master or Business Analyst?
Between scrum masters and business analysts, scrum masters get paid more.
According to Indeed, the average annual salary of a business analyst is $74,090. On the other hand, scrum masters earn an annual average wage of $100,882.
This may surprise you, but the income of scrum masters corresponds well to what they do for the organisation or company.
Mainly, when scrum masters perform their role, they provide better leverage for the organisation, which proceeds to have long-term effects.
Scrum masters are indispensable whether they stay for a specific project or work for a long time in the company. They provide fuel to the cog of the development team, making sure that the internal functions are in harmony with one another; therefore, increasing efficiency and saving time and money for the organisation. Then it is only fair that some of the savings are received by the scrum master in the form of the salary.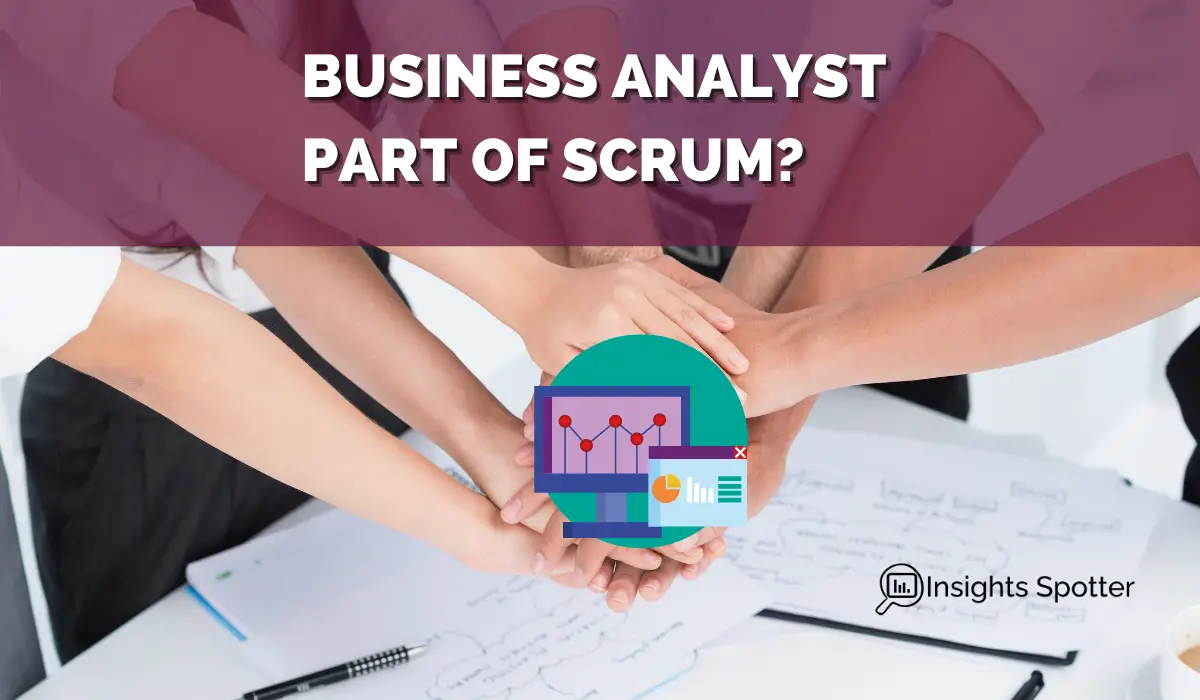 Is a Business Analyst Part of the Scrum Team?
Yes, a business analyst CAN be part of the scrum team. Scrum does not say that business analysts need to exist, but arguably having one will reduce work for a Product Owner and Project Manager and increase the quality of the whole scrum framework. Thus, regardless of whether you call such a role as a business analyst/data analyst or some other name, it is recommended to have such a member.
Business analysts sometimes act as the Product Owner in companies depending on the nature and size.
They provide the technical aspect of the product development and work with developers to assess the risks and gains of the product and the potential problems they could encounter in the development process.
Still, even if you have a dedicated Product Owner, having a Business Analyst in the scrum team is advantageous. Their expertise in the technical aspect of product development contributes to providing better clarity on the direction of the team and the project. 
Their responsibility is to ensure that stories created by the Product Owner have the proper acceptance criteria and address business or customer requirements (also, can help with writing user stories). 

They also might work with the Product Owner or Manager to understand new customer needs. 

Plus, a Business Analyst could help the Product Owner organise the Product Backlog as they have a good idea of what needs to be done first. 

Finally, a Business Analyst will help to understand new requirements or improvements.
But let's go more in-depth in the next section.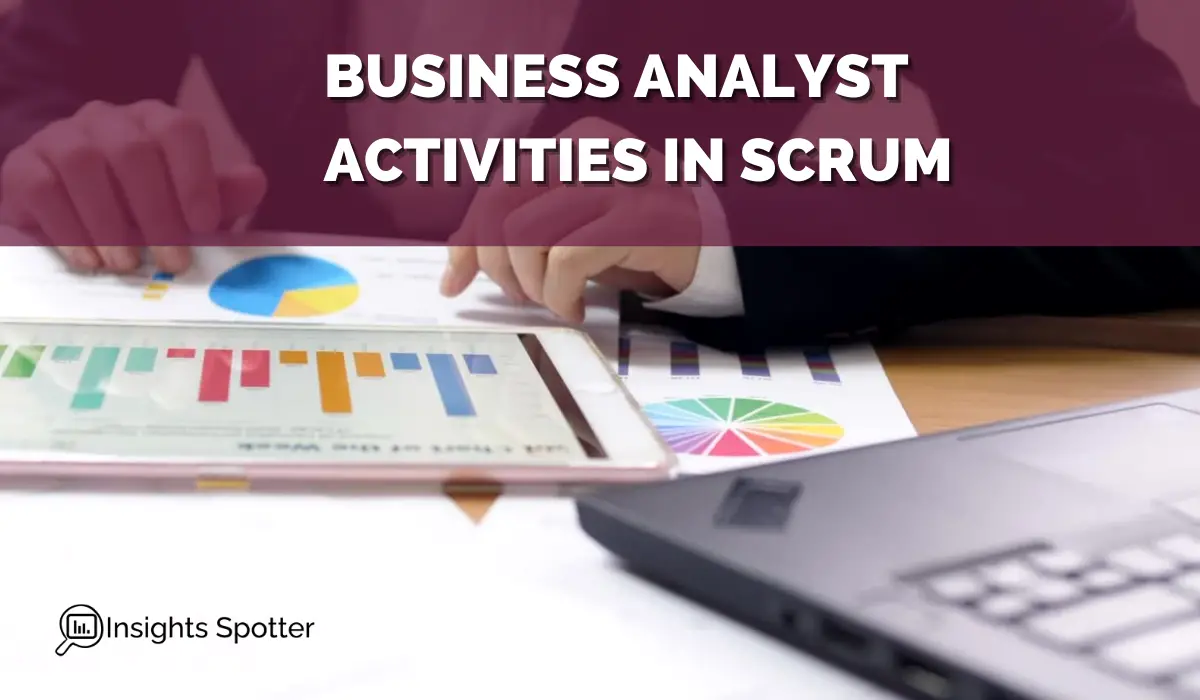 What Can a Business Analyst Do in Scrum?
One of a business analyst's primary roles in a scrum or agile team could be to contribute to the product backlogs and groom them.
Business Analysts work kind of a middle man between customers or business requirements and agile development teams. As a result, they tend to be more advanced or flexible in their roles and not just follow agile methodology. Hence, they become a significant player in the scrum team.
Here are some of the functions expected from a scrum business analyst concerning grooming the product backlog.
1. Analyse customer needs
Business analysts interact with customers to gather data concerning their needs and issues regarding a product or software. Based on these data and fundamental identified problems, developers alongside the business analyst will develop viable solutions. 
They will share these responsibilities with a Product Owner and Product Manager depending on the level of understanding. A business Analyst will be the one going into more detail.
2. Come up with a user story
In agile software development, a user story is a vital tool to help the team understand the product's value. In addition, it strengthens their goals as it allows them to shape a better framework that is more user-focused.
A user story is an informal explanation or description of the software's key features written from the end-user's perspective.
The business analyst sometimes creates these stories following requirements or criteria. In some cases, the product owner draws the user story while the business analyst reviews and aligns the descriptions with the business rules.
3. Meet with the stakeholders to check on any potential issues.
The purpose of agile software development is to ensure no loose ends with all the stakeholders, whether at the level of the product owner, customers, or scrum team. This task often falls in the hands of the business analyst – at least the technical business aspects.
Conclusion
Scrum masters and business analysts function separately. Nevertheless, they are both prominent figures in an agile development team.
While business analysts focus more on the technical elements of the process, scrum masters keep the team at the same pace and level of efficiency.
This fundamental difference makes it unwise for an organisation to use a business analyst as a scrum master without the proper training.
Fortunately, business analysts can acquire a scrum master certification making them more flexible for the role.
Moreover, becoming a scrum master with an elaborate background in business analytics has plenty of advantages as far as professional growth is concerned. Thus, it is ultimately for you to choose if you would like to take different responsibilities in a scrum team. Good luck!  
---
Subscribe to our newsletter!
---
ABOUT ME
I am an experienced ex. Business & Data Analyst and now a Project Manager with multiple years of experience gained in several international companies.
These days, business problems require data crunching and telling stories to make the right decisions. Simply put, business stakeholders need insights into their projects and deliveries.
This is where I come in. I have learned and applied Python, Power BI, SQL and Excel to analyse and present data. Also, I gained experience in Project Management and Business Analysis. So, I can not only spot insights but execute business decisions. Moreover, I can teach you as well. Read More
---
Best Books
---
Need Project Manager's Help!?
Check out the Fiverr marketplace if you do not have time to run your own projects or just need extra help. They do have multiple project professionals, including project managers. Maybe you will find just the right fit to take some burden from you. I have used Fiverr in the past. The prices are also not too bad. If you seek PM via the corporate route, it will be easily 5x the price.