No Budget Project: How To Manage a Project With Zero or Limited Budget
Seasoned project managers would tell you how frequently projects vary not just in type but in budgeting as well. You would think that companies will shell out readily-available funding for a project, but sometimes money is tight, and there are instances where you find yourself managing a project with a small budget or no budget at all. 
So, how do you work it out? 
If you're managing a project with a tight budget, ensure that the funds are allocated to the essential aspects like the primary resources (labour, software, tools). Use already available materials and prioritise work that sets the project's base. Prepare a backup and be transparent with the stakeholders.
Read on and find out the necessary steps to complete a low or no-budget project.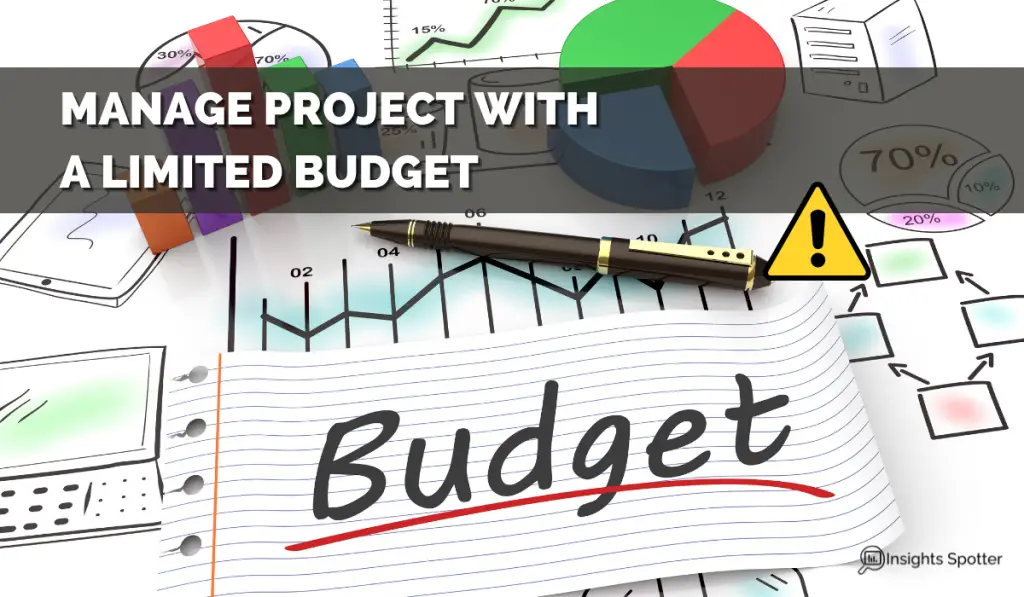 How Do You Manage a Project With a Limited or No Budget? 
First of all, there is no such thing as a no budget project. You might not see it in monetary terms, but some effort and material are definitely involved.
For example, you might be running a small project requested by your boss, where you need to collect data from another department for urgent analysis, which will form based on a larger project in your department. In this situation, you will use your time and ask your colleagues to help with getting the data; then, you will use some ready available tools like PowerBI or just Excel to visualise results. In our example, the budget will be the salary company pays you and your colleagues as well as the license cost for the tools. You might not need to track the budget, but it exists.
If you are a non-profit, volunteers and donations will form part of the budget. So, if you do any project, some version of the budget is still involved.
More often than not, you will have some budget to play with, but it can be limited. When there's a financial limitation in the project you're handling, you have to take the more practical approach of planning, monitoring, and executing the tasks. 
Avoid making false promises to your client as it could damage your reputation and waste everyone's time. Instead, provide complete details in terms of the risks, time-to-market, resources needed, etc., to the stakeholder. 
Handling a project without many resources is challenging, but once you get it to succeed, it can be rewarding. Not only will you have another work success story added to your portfolio, but it will also hone your skills in forming solutions with limited resources to specific needs. 
Check out ways to consider when managing a low-budget project.  
1. Start With The Goal of the Stakeholders
According to 91% of CEOs, successful budgeting begins with empathy. Understanding where the owner, employees, and stakeholders are coming from will give you the determination as well as help you understand their goal and primary objectives, which you should prioritise. 
One of the main tasks of project managers is to communicate goals to the team and everyone involved. By doing so, you don't just increase morale but portray the project as a solution to a people problem, and provide a structured direction for the team. In the process, you might get even volunteers to help you succeed in your endeavour and, thus, reduce your project bill.
2. Use Your Previous Projects as a Reference for the Quote
You do not want to be the one who is at fault when getting a low budget. Thus, you must prepare and ensure an accurate budget is requested. A cost management plan for a project with a limited budget can be tricky. But you have the advantage if you have other similar projects from the past. Otherwise, you can use your other projects, regardless of the budget size and scale down, as a reference for analysis during estimation. 
Check out a few primary ways to estimate your project budget.
Bottom-Up Project Budget Estimate
Top-Down Project Budget Estimate
Analogous Project Budget Estimate
Parametric Project Budget Estimate
Three-Point Project Budget Estimate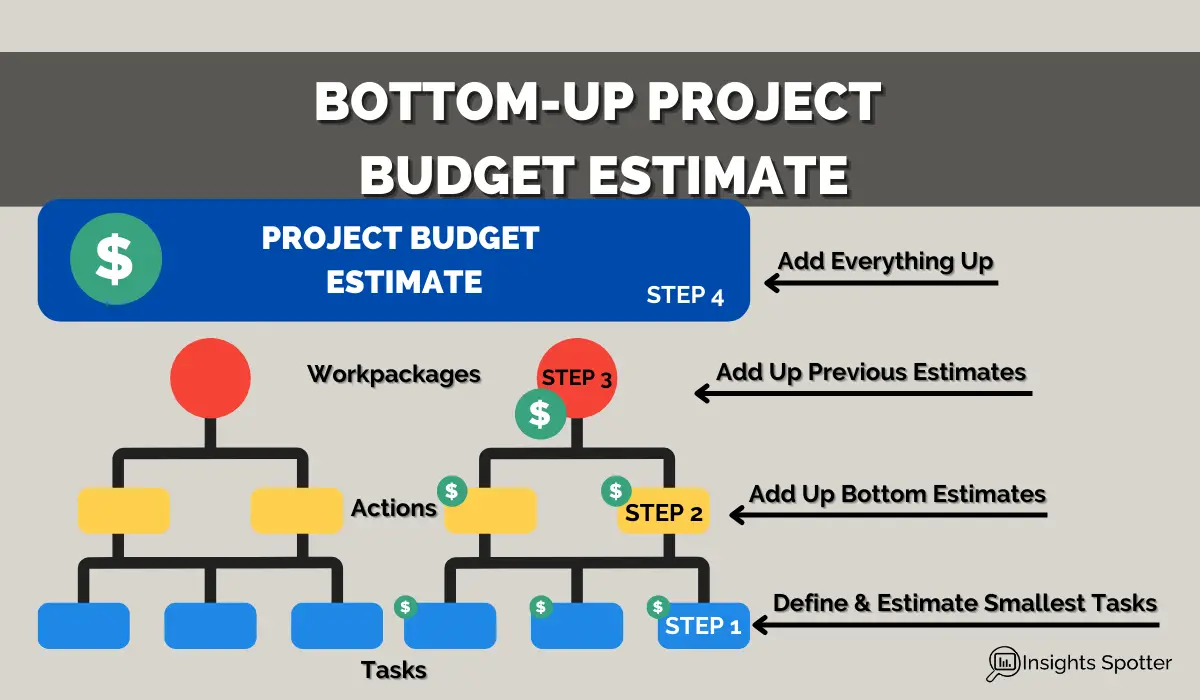 3. Identify Which New Resources Need a Defined Budget
Many resources get involved in project management. But you don't have to employ all tools, labour, and materials if they don't serve any real value. So, only get new resources if it is essential.
Keep in mind that when allocating a budget, labour or personnel involved goes on top of the list as the highest priority. You cannot do a project without people. But you must decide how many people are needed and the hours they should render to complete the assigned tasks. 
Next, create an estimate for the materials cost. Focus on tools that are essential to carry out the operation. Also, if there's a free option or an existing resource, avoid double spending by sticking to what is available.
For example, if the office has multiple users access to Microsoft365, you may not need to get a subscription to Google Workspace (unless you already have one). With this software, you can create multiple tasks using its many tools, like Microsoft Office Planner, Word, Excel, Publisher, PowerPoint, Outlook, etc. 
4. Prioritise Tasks Based on Value
Prioritising the most critical task in each phase allows you to manage the allocation, as limited as it may be. You can employ several strategies that could work for your team, such as the following:
MoSCoW Method: Categorise tasks as must-haves, should-haves, could-haves, and won't-haves.
Eisenhower matrix: Divide the task into (1) urgent and essential, (2) not urgent and important, (3) urgent and not necessary, and (4) not urgent and not important. 
With these prioritisation techniques, you can assign proper budgeting to tasks with the highest value and urgency. 
5. Prepare a Backup Plan for Several Scenarios
Even when the company says there is no additional budget for the project, you can find ways to proceed if you have limited options. For one, you can use resources that the company already has to complete several tasks. You can also adjust the timeline or shift prioritisation. 
The best way to be prepared is to create several what-if scenarios. Then use the five whys iterative technique to address the potential problem for each situation.
How Important Is Budget in Project Management? 
The project budget covers the estimated cost of each phase the project must complete. While the goal provides the project's direction, the budget serves as the fuel. 
A project with a well-defined and well-managed budget tends to have a faster pace, provided that the other management areas run smoothly. On the other hand, a project with a limited budget typically goes on the slower lane.
It's also important to understand that no project can operate with a totally zero budget. Therefore, if the fund is close to depletion, you should request ahead of time and present a comprehensive report of the expenses vs the estimated cost. 
Budget overruns can occur due to scope creep, typically when the stakeholders and the team have not established a clear expectation during the planning stage. On the other hand, you may also need an additional budget if you plan to procure a tool or software license.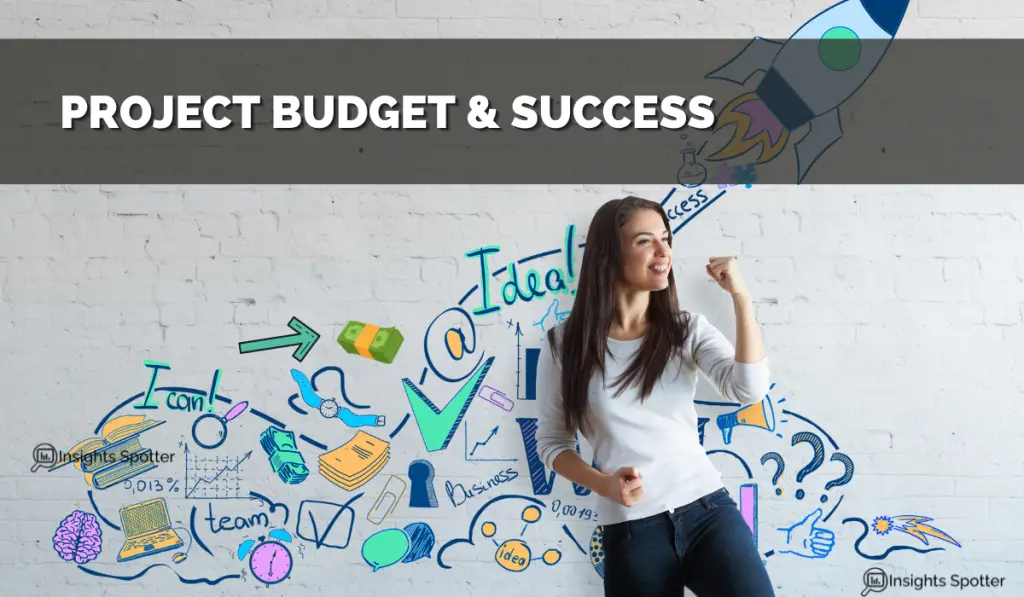 How Does Budget Influence Project Success?
The budget size does not automatically determine the success of a project. Therefore, there is some good news if you have not been allocated one.
Even if the project you're handling today has the maximum required budget allocated throughout the initiation, planning, execution, monitoring and controlling and closure; But, if you fail to employ effective cost management, you'll have to start from scratch.
In fact, according to Axelos, 50% of those with higher budgets ($1 million or above) and overreached funds have increased rates of failure.  
On the other hand, starting the project with zero or a limited budget can still drive positive results. Of course, you would encounter cost-related challenges and may have to adjust your timeline. But these hurdles can be dealt with creative solutions, proper analysis, smooth execution, and team dedication. To do so, the company will need a competent and creative project manager, who not just does things by the book but tries to explore alternative means like alliances in the company (friends), and simplistic solutions.  
Do not forget that project managers influence the budget as well, being the leader and facilitator of the project. Therefore, before you get zero budget, you can try to negotiate your success and try to get some monetary funding in the first place.
As a project manager, you perform the crucial tasks in the cost management process levels: cost estimating, cost budgeting, cost control, and cost applications.   
Cost estimating: Predicting project cost throughout its life cycle
Cost budgeting: Constructing the budget and a monitoring system of its use
Cost control: Gathering reports, analysing, monitoring, and managing costs during each phase 
Cost applications: Incorporating specialised applications of cost management techniques for other areas outside the cost processes
While these process levels are executed straightforwardly with a fixed and accessible budget, you will have to find additional solutions for no additional budget projects. 
Fortunately, you can still manage the project with ease and confidence if you level all expectations at the start of the initial phase.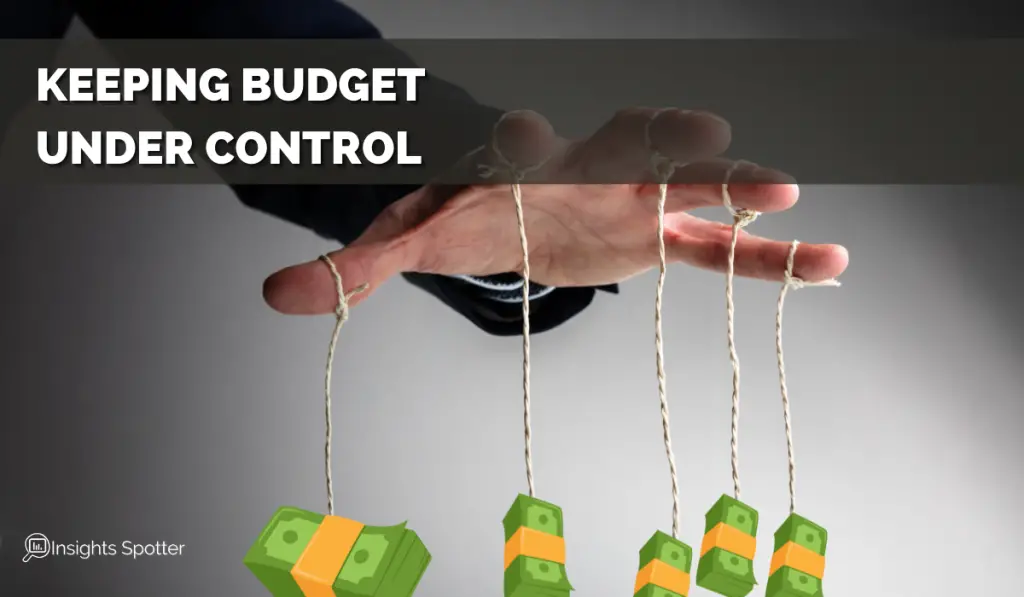 5 Tips To Keep a Limited Budget Under Control
When it comes to keeping the budget within the specified range, only 43% of companies can attest to completing their projects without exceeding the financial limit. Going beyond the budget remains a problem for many, and it could add to the already existing challenges of a limited-budget project.
Without proper cost management, it's already difficult to control a fixed budget, let alone a limited one. With that, the project manager must be equipped with the hard and soft skills needed to fully manage the project's finance, planning, execution, and evaluation areas. 
Here are some of the steps you can consider to prevent limited budget overruns. 
1. Create a Detailed Budget Plan
The key to budget control is detailed and meticulous planning. If you have established the proper breakdown, prioritisation, and precise estimation before the project takes off, you will have the chance to avoid going over the budget. 
In creating your estimation and budget plan, always involve not just the cost but the time, risk, scope, resources, and quality. Use analytic strategies like SWOT, MOST, and PESTLE depending on the nature of the project.
Then, apply the right estimation technique according to the project type and create the breakdown with a wiggle room by allotting a buffer amount. If there's a need for adjustment to further size down the budget, focus on prioritisation.    
Budget Breakdown
Your estimation breakdown will vary based on the industry the project is under, but what remains consistent in project management would be the phases. Identify the resources needed for each phase. 
For example, determine what roles must be filled during the planning stage. For instance, if your project is on app development, you will most likely need developers and software engineers. Identify their rate per hour and their deliverables. 
Next, list down the tools and materials you'll need. Assess the objectives of each phase and ask yourself whether you'll need licensed software or can you just stick to free alternatives. 
Then, think about the training and meetings. Is there a need to meet face-to-face, which can cost transportation and venue, or can you simply have virtual meetings? 
When making decisions, you always have to consider the budget. However, don't let the financial limitation affect the quality of your output. If the funding is a critical issue that goes against the goal, better advise the stakeholder to gather the necessary financing first instead of pushing the project forward.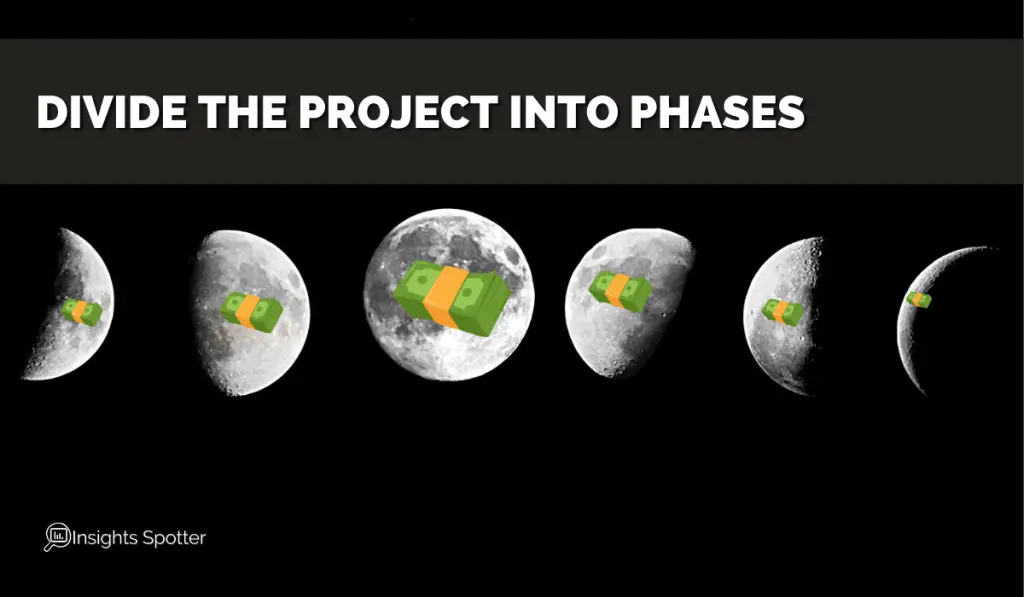 2. Divide the Project Into Phases With a Realistic Schedule
There are two ways to work on a tight budget when estimating the cost and target completion for each phase. First, you can play around with the funding and slash tertiary requirements to focus on the primary needs. Second, you can adjust the completion date to give way to sourcing out. 
In project management, it is a given that you will have to group the stages into phases depending on their level of progress. Whether you choose the waterfall or agile methodology, you will need to create a separate plan for each phase, including the budget, timeline, and scope of delivery.
With that in mind, consider dividing the phase further into specific tasks and allocating a budget while considering the possible adjustments you can make once the budget gets too low.   
3. Create a Solid Team With the Same Goal
Communicate with your team if you're working on a low-budget project. This would pave the way for collaboration based on trust and understanding. But, more importantly, ensure that all team members and stakeholders are on the same page regarding what needs to be accomplished and the restricting factors to consider. 
Projects with a limited budget don't need a large team of 20 people, not because of the financial constraint but because smaller teams have a higher chance to succeed provided that all the members have the capacity and character to materialise the goal. This has been evident as 69.5% of companies employ teams with ten or fewer members for projects.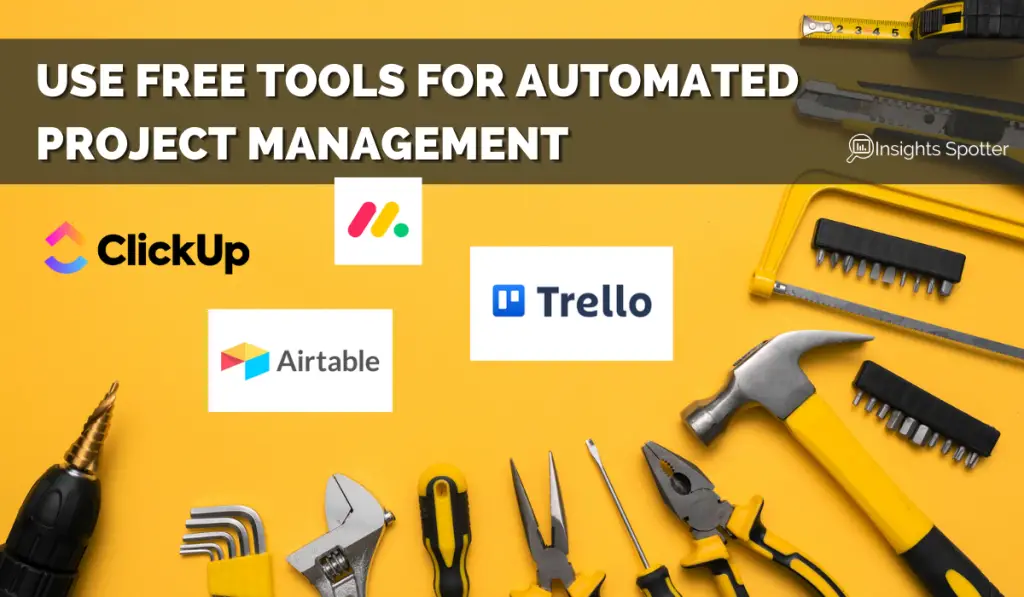 4. Use Free Tools for Automated Project Management
To maintain the efficiency of the project, take advantage of free project management tools online to help you monitor the progress of each team member and detect any delays that will potentially concern budgeting. 
You can choose from different providers, but the following have the strongest reputations in the project management field:
If you like to learn more about project management tools and where you should or shouldn't use them, check out my post: PROS AND CONS OF PROJECT MANAGEMENT SOFTWARE
Tracking the various tasks for each phase allows you to assess the budgetary conditions and potential problems. This way, you can stay ahead of the issues and prepare a solution before the crisis pans out.
5. Monitor Scope Creep
In a project with a minimal budget, project managers will need to have a lower tolerance for scope creep. 
Scope creep happens when the stakeholders unexpectedly change the features, requirements, or provisions for the project completion without really being willing to change other project constraints. For example, what was once a single deliverable now becomes five. Scope creep will modify the project's timeline, quality, and financial requirements.
As a project manager, your job is to assess the impact of the scope creep. Communicate the issues with the owner and stakeholders if it doesn't fit the budget or add additional work delaying time-to-market. With a limited budget, you need to learn how to say no and review the contract.
If you like to learn more about how to run a frugal project, check out my post: REDUCE PROJECT COST: RUN FRUGAL PROJECT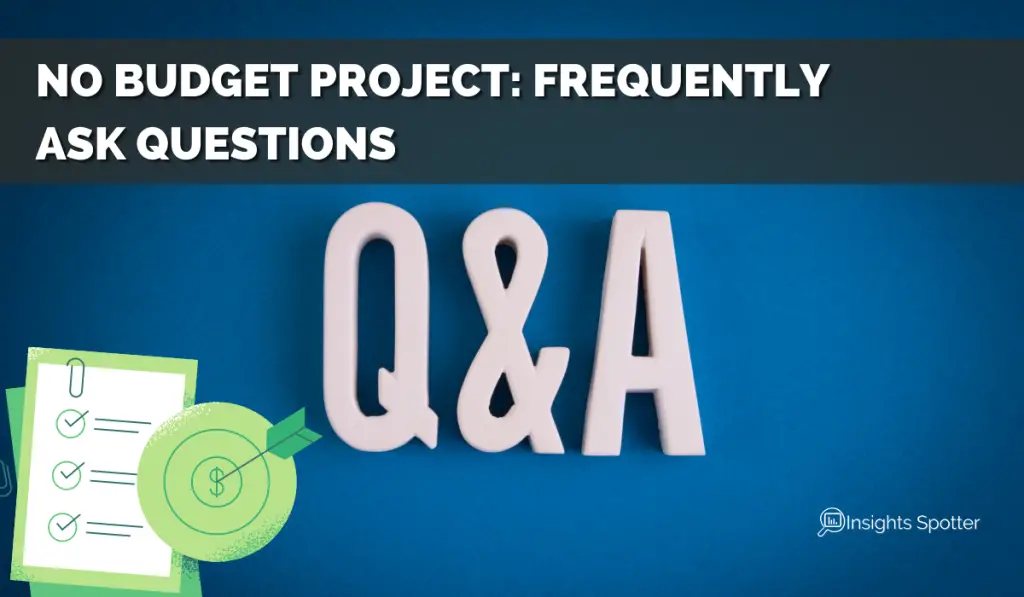 No Budget Project: Frequently Ask Questions 
Can a Project Succeed With Limited Resources?
You can still manage and complete an entire project cycle even with limited resources, provided that the project's goal, expectations, the scope of delivery, timeline, and other aspects suit the budget. 
Companies should not aim for software with advanced functionality if their budget only fits an essential app. This is why project managers, stakeholders, and the owners should take the time to get on the same page in planning the project to avoid significant problems like budget depletion. 
Likewise, project managers should be transparent and weigh if the goal and scope do not align with the budget. Not all business owners have the bandwidth to assess the financial requirements of a project. Therefore, the project manager should fill in this gap. From experience, I can tell you it is not easy, but it is part of the job. If you agree and then do not deliver the project within the budget, you will have to answer some difficult questions.
Are There Consequences for Insufficient Resources in a Project?
Working with a limited budget comes with challenges that increase the risk of failure. The consequences of insufficient resources in project management can lead to delays in the delivery, inability to fund certain features, slow pacing in the timeline, or even complete collapse of the project. 
Nonetheless, project managers should forecast these impacts relative to the size of the budget and the project itself. If the project moves through even though there is no fixed fund or the budget is at its minimum, the manager should create a backup plan for every possible scenario that could happen due to financial constraints. 
How Can Projects Not Go Over Budget?
To avoid managing a project that goes over budget, you must go through the cost processes (forecasting, budgeting, controlling, and applying) with proper analysis and execution. 
Planning the budgeting ahead of the project and taking the time to do so ensures you don't exceed the maximum limit. 
A crucial part of this solution is understanding the effects of going over the budget (my previous post) and knowing how to prevent it. 
However, on the chance that you experience cost overrun, you can still fix the problem with immediate action and solution. Learn more about what to do when a project is over budget (another post in InsightSpotter). 
No Budget Project: Summary 
A well-defined, properly allocated budget can stir the project in the right direction and pace. If you're given a limited budget, apply creative solutions that won't compromise the goal. 
However, you also have to be realistic. Plan and create the budget breakdown with multiple scenarios, and do not hesitate to communicate your requests. 
---
Subscribe to our newsletter!
---
ABOUT ME
I am an experienced ex. Business & Data Analyst and now a Project Manager with multiple years of experience gained in several international companies.
These days, business problems require data crunching and telling stories to make the right decisions. Simply put, business stakeholders need insights into their projects and deliveries.
This is where I come in. I have learned and applied Python, Power BI, SQL and Excel to analyse and present data. Also, I gained experience in Project Management and Business Analysis. So, I can not only spot insights but execute business decisions. Moreover, I can teach you as well. Read More
---
Best Books
---
Need Project Manager's Help!?
Check out the Fiverr marketplace if you do not have time to run your own projects or just need extra help. They do have multiple project professionals, including project managers. Maybe you will find just the right fit to take some burden from you. I have used Fiverr in the past. The prices are also not too bad. If you seek PM via the corporate route, it will be easily 5x the price.